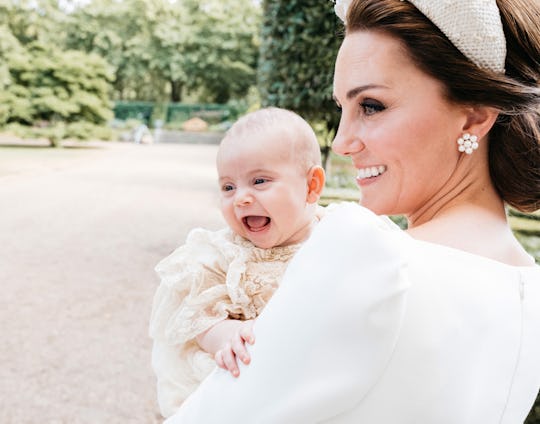 Handout/Getty Images Entertainment/Getty Images
Prince Louis Is His Big Brother's Twin In This New Candid Photo From His Christening
The Duke and Duchess of Cambridge's third child, Prince Louis, made his second-ever public appearance when the new family of five gathered for his christening at the Chapel Royal at St. James' Palace. Live footage from the day showed the 11-week-old boy arriving to the event sleeping soundly in his mother's arms, and on Sunday, Kensington Palace released four gorgeous portraits from the day, shot by photographer Matt Holyoak. But a new photo released Monday might be the cutest one yet: not only is he awake and smiling, Prince Louis looks so much like Prince George in the newest candid snap with mom Kate Middleton, and it's so sweet.
The beautiful photograph was taken after Prince Louis' christening by photographer Matt Porteous, who also took the portraits of Prince George shared in honor of his third birthday in July 2016, according to People. And it's pretty much the perfect accompaniment to the more traditional formal portraits Hollyoak shot of the royals at Clarence House following the ceremony.
While the indoor photographs give an adorable glimpse of the duke and duchess' growing family (and also include Prince Louis' new aunt, Meghan, the Duchess of Sussex), the outdoor shot of the young boy with his mom is a gorgeous, candid moment — in the photo, a wide-awake Prince Louis looks to be laughing as he's held by Duchess Kate in front of the camera.
In a tweet Monday morning, Kensington Palace shared the photo and wrote that the duke and duchess — like the proud parents they clearly are — opted to share the additional photo publicly, and that they "hope that everyone enjoys this lovely photograph of Prince Louis as much as they do." Given that the photo is basically the royal equivalent of a YouTube video of an impossibly fluffy and squishy snoozing kitten, it's safe to say that, yes, the internet has collectively melted from the cuteness. But one thing that makes it even cuter (as if that were even possible) is that the resemblance between Prince Louis and his big bro is pretty uncanny.
Although Prince William and Duchess Kate have taken a fairly conservative approach to sharing photographs of their children in order to preserve their privacy, the world has watched as Prince George has grown from a newborn heir to the British throne making his debut on the steps of the Lindo Wing outside of St. Mary's Hospital in London in 2013, to a soon-to-be 5-year-old who began primary school last fall.
Given that they are brothers — and given that they're both pictured wearing the exact same christening gown — it's not entirely surprising that they look an awful lot alike, but it's still pretty sweet to see Prince Louis' resemblance to his brother. In fact, in similar photographs taken from their respective christenings, it's honestly hard to tell them apart.
In 2013, for example, Prince George arrived at the Chapel Royal with his parents, awake, yet not looking all that impressed:
And though Prince Louis rolled up snoozing in his mother's arms for his big day, he's still basically his brother's twin:
In another photo taken of Prince Louis in the garden following his service, he's definitely bringing major Prince George vibes:
One big difference though? While it's obviously hard to say for sure given that we've only seen a handful of photos from Prince George's first year, Prince Louis does seem like he might be a bit more of a ham than his often-serious-looking brother, thanks in large part to his hilariously big grin:
And though it's still to be seen if that is, in fact, the case, Prince Louis' role as the third-born means it wouldn't exactly be a surprise. According to The Independent, birth order can definitely affect a child's personality, with last-born children tending to be "more relaxed, easy-going, and funnier," than their older siblings — particularly compared to first-borns, who are said to be "more cautious and dutiful" (even if they aren't being raised with the knowledge that they will likely be king!).
In any case, getting the chance to see candid photos of Prince Louis has been so lovely, and although it might be a while until we see the young prince again, it definitely seems like his personality is really beginning to shine. And just as middle child Princess Charlotte has more than proven already, you definitely don't need the promise of the crown to be a total royal scene-stealer.