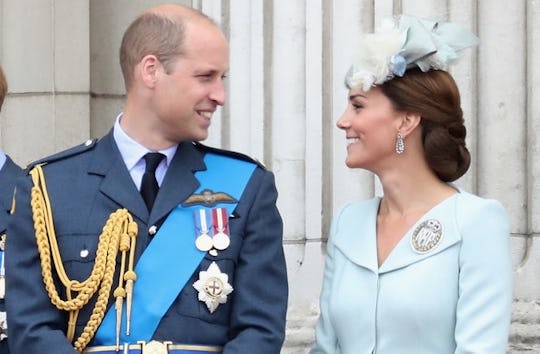 Chris Jackson/Getty Images Entertainment/Getty Images
This Video Of Prince William Trying To Get Kate Middleton To Scooch Over Is *Every* Couple
I've never been a fan of that comparison game people seem to want to play with the royal family, but now let me tell you who I prefer. Sure, Meghan Markle and Prince Harry are pretty adorable with their swoony love and their glowing faces. But honestly? Give me Kate Middleton and Prince William's tired, comfortable, new parent love any day of the week. This is something I can relate to on a very deep level. Especially when I saw that video of Prince William trying to get Kate Middleton to scooch over and make some room on the balcony at Buckingham Palace. That's real life, guys. Except for the whole palace part.
The Duke and Duchess of Cambridge joined the rest of the royal family, including Prince William's brother Prince Harry and his wife, on the balcony to watch the Royal Air Force fly overhead in honor of its 100th anniversary, according to Harper's Bazaar. This was a bit of a surprise appearance of Kate Middleton as she is still officially on maternity leave after giving birth to the couple's third child, Prince Louis (they are also parents to 4-year-old Prince George and 3-year-old Princess Charlotte). I'm so glad she did show up though, because we got a pretty delightful regular couple moment out of the two.
When Middleton stepped on to the balcony, she seemed a bit distracted and sort of stopped in the middle of the balcony, prompting Prince William to give her the classic "keep it moving" nudge.
I'm telling you, seeing a royal prince blandly reminding his distracted wife to make room for the rest of the family, namely the Queen of England, is enough to warm the cockles of this girl's heart. Because Prince William and Duchess Kate have never been big fans of public displays of affection like Prince Harry and Markle, these little moments of very real coupledom are precious gems.
Unfortunately for Prince William, he knows a little something about getting caught in public when you're not feeling at the top of your game. Just after Prince Louis was born on April 23, the future king was back at work and attending an event for Anzac memorial services alongside Prince Harry and Meghan Markle at Westminster Abbey, according to TIME. Apparently it was a smidge too early for him to return to work, because he fell asleep in the middle of the ceremony.
Actually it looks like Prince William might have something of a problem staying focused in church, to which I say Amen, brother. When he and Middleton attended the Royal Air Force centenary at Westminster Abbey on Tuesday, the Duke of Cambridge had a little fit of the giggles, according to Marie Claire. But this time Kate Middleton was there to quell the situation, it seems.
As a couple who have been married since 2011, they always seem to have each other's backs. But I would go so far to say their true strength lies in the way they parent their kids. Considering how often the entire family is in the public eye, the Duke and Duchess of Cambridge seamlessly present a unified front of crouching, quiet nagging, and hand holding.
I mean, if you know anyone out there who is better than Kate Middleton at crouching and scolding I would be surprised.
Don't get me wrong, I love Prince Harry and Meghan Markle. She's an American actress and he's a smitten prince; I've seen that Hallmark movie and I'm just glad it's finally happening in real life.
But when it comes to every day life, give me a video of Prince William scooching Kate Middleton over on the balcony. I could watch that all day long.