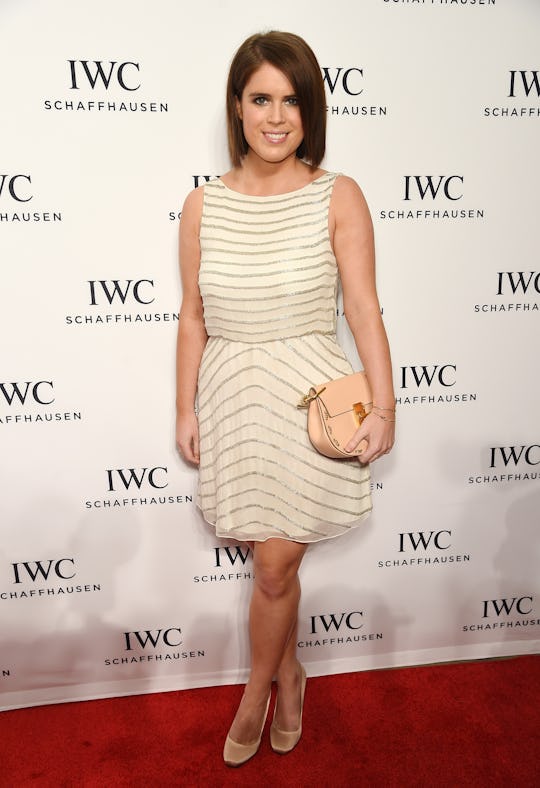 Dimitrios Kambouris/Getty Images Entertainment/Getty Images
Princess Eugenie Has Become A Role Model For This Quiet Condition Affecting Many Teens
In 2002, a 12-year-old Princess Eugenie of York made headlines for undergoing an eight-hour surgery to correct her scoliosis, which is an abnormal curvature of the spine. In honor of National Scoliosis Awareness Day, Princess Eugenie, now 28, shared an important image from her own battle with the medical condition. On Monday, Princess Eugenie Instagrammed x-rays from her childhood scoliosis surgery, helping to spread awareness for the often unseen condition.
"Today is International Scoliosis Awareness Day and I'm very proud to share my X Rays for the very first time," Princess Eugenie wrote on Instagram. "I also want to honour the incredible staff at The Royal National Orthopaedic Hospital who work tirelessly to save lives and make people better. They made me better and I am delighted to be their patron of the Redevelopment Appeal."
Alongside the caption, Princess Eugenie shared two photos of her X-rays, revealing the eight-inch titanium rods on either side of her spine, and the one-and-a-half inch screws at the top of her neck. The princess opened up about her surgery further in a blog post on the Royal National Orthopaedic Hospital's website. "This was, of course, a scary prospect for a 12-year-old," she wrote, referring to the moment she found out she would need surgery. "I can still vividly remember how nervous I felt in the days and weeks before the operation."
She also revealed that her recovery included three days in intensive care, a week on a ward, and six days in a wheelchair. When Buckingham Palace announced the upcoming surgery in 2002, a spokeswoman told BBC that it was "a very minor routine operation." At the time, Princess Eugenie was sixth in line to the throne — she is the daughter of Prince Andrew, Duke of York, who is Queen Elizabeth II's second son.
Scoliosis is much more prevalent than it may seem. An estimated 2 to 3 percent of people, which is about 6 to 9 million people in the United States, have scoliosis, according to the American Association of Neurological Surgeons (AANP). Most people develop scoliosis between the ages of 10 and 15, and though it affects both boys and girls, girls are eight times more likely than boys to need treatment for it, according to the AANP.
And Princess Eugenie is happy to be living proof that the scoliosis operation is effective. In her blog post, she praised the hospital for successfully executing her surgery, ultimately giving her the confidence to be a role model for other children with scoliosis. She wrote:
Without the care I received at the RNOH I wouldn't look the way I do now; my back would be hunched over. And I wouldn't be able to talk about scoliosis the way I now do, and help other children who come to me with the same problem. My back problems were a huge part of my life, as they would be for any 12-year-old. Children can look at me now and know that the operation works. I'm living proof of the ways in which the hospital can change people's lives.
Although she has grown up in the public eye, Princess Eugenie has caught an amount of critical press focused on her looks, most notably at the wedding of the Duke and Duchess of Cambridge in 2011. But her decision to take the reins of her Instagram account (the other royal accounts are managed by staff, and not personalized) has helped people understand the woman under the fascinator, so to speak. The princess will be married later this year to Jack Brooksbank, her long-time boyfriend. And the contingent of Princess Eugenie fans are undeniably excited about the event.
The album of photos Princess Eugenie shared on Monday also featured a few shots of her at the Royal National Orthopaedic Hospital visiting patients, and a shot of her making a speech for the hospital's redevelopment appeal. Scoliosis is a cause so close to Princess Eugenie's heart, and it's awesome that she has dedicated her time to creating awareness for the condition for so many years. Hopefully a few kids struggling with scoliosis see the photos of Princess Eugenie's X-rays, read her words, and know that it's going to be OK.