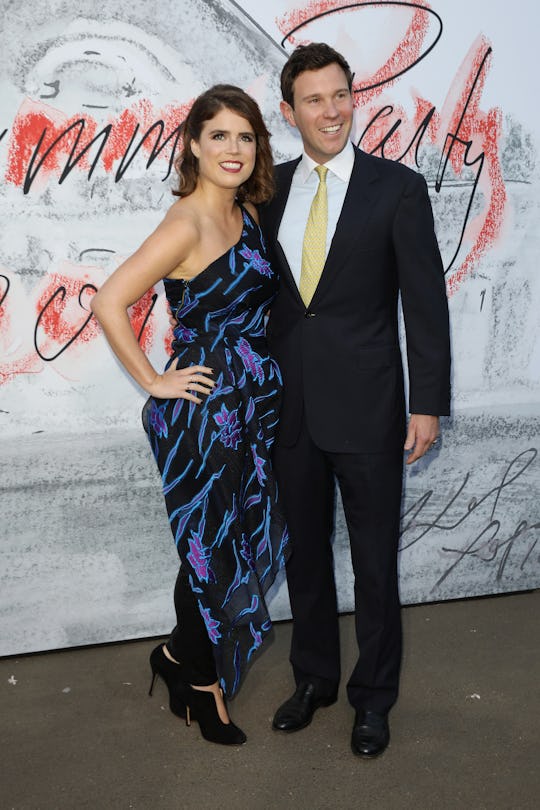 Tim P. Whitby/Getty Images Entertainment/Getty Images
This Is How Princess Eugenie's Upcoming Wedding Will Resemble Prince Harry & Meghan's
2018 has certainly been a big year for Britain's royal family: in addition to welcoming a new prince into the fold in April, they've also gained a new duchess in Meghan Markle following her picture-perfect wedding to Prince Harry in May. But with Prince Harry's cousin, Princess Eugenie, also set to tie the knot in October, the celebration is far from over. Like the newly minted Duke and Duchess of Sussex before them, the couple has decided to tie the knot at Windsor Castle's St. George's Chapel, and it now turns out that Princess Eugenie will follow Prince Harry and Meghan Markle's lead by inviting the public to watch the wedding from the castle grounds.
That won't be the only similarity the two weddings will share though: Buckingham Palace has confirmed that Princess Eugenie and Brooksbank will also embark on a carriage procession through Windsor following their wedding, which will no doubt be exciting news for anyone hoping to catch an up-close-and-personal glimpse of the newlyweds. Want to get in on the action? Members of the public can enter online for the opportunity to be one of 1,200 people who will receive an invitation to the Windsor Castle grounds. But there is one tiny catch: only individuals living at a UK postal address are eligible to apply.
Either way, it's a pretty cool opportunity for those who follow the royals — how many people can say they've been inside the Windsor Castle walls to witness a royal wedding? In March, Kensington Palace explained that Prince Harry and Markle had decided to open their wedding up to members of the public to allow them "to feel part of the celebrations too," and, in total, it meant that 2,640 people were invited to Windsor Castle for the wedding in addition to their original guest list of family and friends.
As with Princess Eugenie's wedding, that included 1,200 members of the general public, though instead of applying online the individuals chosen were "nominated to attend by nine regional Lord Lieutenant offices," and were meant to represent "a broad range of backgrounds and ages, including young people who have shown strong leadership, and those who have served their communities." Also invited to the grounds were representatives from a variety of charities and organizations, students from local schools, and residents of Windsor Castle and the Royal Households.
So what can Princess Eugenie's 1,200 public guests expect on the big day? While they won't be invited inside the chapel for the ceremony, they will be able to "view the arrival of the congregation and members of the royal family," and will also have the chance to "listen to a live broadcast of the marriage service" (Buckingham Palace has yet to confirm whether the wedding will be also be televised). But it seems likely that the guests will want to come prepared: ahead of Prince Harry and Meghan's wedding, officials informed everyone invited to the castle grounds that they should bring their own picnic lunch to the event since it wouldn't be catered, according to The Independent.
Like at Prince Harry and Meghan's wedding, the 1,200 guests will also be the first to see Princess Eugenie and Brooksbank off on a carriage procession following the ceremony — though in this case, the route will be much shorter. While the Duke and Duchess of Sussex's procession saw them departing Castle Hill and taking a 25-minute ride through the town and returning back to Windsor Castle via the Long Walk, according to The Express, Princess Eugenie and her new husband will leave Castle Hill, proceed along part of the High Street in Windsor, before returning through Cambridge Gate.
The wedding itself it set to take place on Oct. 12 — a date which reportedly had to be set to accommodate the fact that Prince Harry and Meghan will actually be in Australia soon after for the Invictus Games on Oct. 20, according to Hello!. Yet there doesn't appear to be any hard feelings: in their engagement interview, Brooksbank said that he and Princess Eugenie — who is currently ninth in line for the throne — were "just so happy and over the moon for what is to come."
Of course, given that Princess Eugenie isn't nearly as high-profile a royal as Prince Harry, it makes sense that her wedding likely won't be as much as a headline-grabbing spectacle. But she won't just be following in Prince Harry's footsteps by marrying at Windsor, she will actually be joining a long line of royals who have chosen to wed at the castle: St. George's Chapel was also the location where Queen Elizabeth II's youngest son, Prince Edward, married Sophie Rhys-Jones (now Sophie, Countess of Wessex) in 1999, according to Town & Country, and in 2008, Princess Eugenie's cousin, Peter Phillips, also chose St. George's Chapel for his wedding to Autumn Kelly.
While nabbing an invite to the Windsor Castle grounds in October might not be nearly as big a deal as being invited to the actual ceremony, Princess Eugenie and Jack Brooksbank are still giving 1,200 Brits a pretty cool opportunity by choosing to continue to follow in Prince Harry and Meghan's footsteps and opening their wedding up to the public. But for the rest of us who won't be quite as lucky? Here's hoping it will be also broadcast on TV.