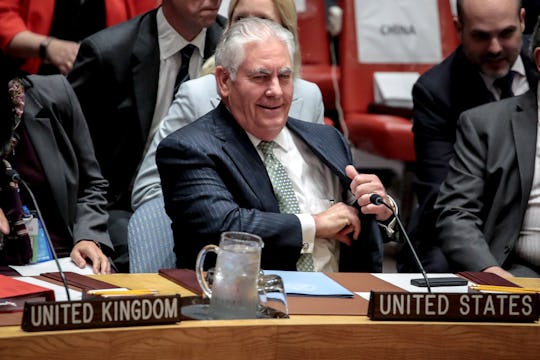 Drew Angerer/Getty Images News/Getty Images
Here's Everything You Need To Know About Rex Tillerson's Reported "Moron" Comment
As if it hasn't been obvious for months, the White House seems to be plagued with a lot of in-fighting. President Donald Trump has butted heads with nearly everyone in his cabinet, according to news reports, and at one point went on a firing spree. Turns out, there's another White House official to add to the list. Secretary of State Rex Tillerson reportedly called Trump "a moron" and tried to resign in July. I know what you're thinking: What is going on with this administration?
According to NBC News, Tillerson allegedly insulted Trump during a high-level meeting at the Pentagon that took place over the summer. Three administration officials told the outlet that the comments were made in front of Cabinet members and members of Trump's national security team who attended the July 20 meeting. Tillerson had also considered resigning from his post as secretary of state, but some senior administration officials implored him to stay put until the end of the year, according to NBC News.
At one point, the relationship between Tillerson and Trump become so strained that Vice President Mike Pence had to step in, The New York Daily News reported. Pence allegedly advised Tillerson on how to ease tensions with the president, and to be "more respectful when discussing Trump at meetings," the Daily News reported.
The secretary of state gave an unscheduled statement Wednesday morning after NBC News broke the story on his "moron" comment. According to Buzzfeed, Tillerson denied reports that he planned to bow out as head of the state department, telling reporters,
The vice president has never had to persuade me to remain as secretary of state because I have never considered leaving this post.
According to The New York Daily News, Tillerson had allegedly mulled over the thought of leaving the State Department after Trump's disastrous speech at the Boy Scout Jamboree on July 24. Tillerson, once president of the Boys Scouts of America, was reportedly furious with the president over his overtly political remarks, which referred to the crowd size, his electoral victory, the economy, and his party life, according to CNN.
One example: During the Jamboree, Trump told the crowd,
But do you remember that incredible night with the maps and the Republicans are red and the Democrats are blue, and that map was so red, it was unbelievable, and they didn't know what to say?
Interesting enough, during his Wednesday morning statement, the former Exxon Mobil CEO did not directly refute reports that he called Trump a "moron." When asked about the comment, Tillerson told reporters, according to Buzzfeed,
I'm not going to deal with petty stuff like that, this is what I do not understand about Washington.
What Tillerson sees as "petty," though, is in fact quite important to America's stability. It's not that insulting the president is a big deal (free speech, right?). But, take the situation as whole, and you find yourself with a deeply fractured administration that is quickly running the country into the ground. And that's frightening, really.
Think about it in terms of North Korea. There's considerable concern — even without reason — that the United States will engage in a nuclear war with the East Asian country. But, according to the Los Angeles Times, some of those worries began to ease last weekend after Tillerson met with Chinese leaders about tightening economic sanctions on North Korea as an attempt to reach a peaceful solution. He told reporters, the LA Times reported,
We're not going to accept a nuclear-armed North Korea. It's going to be an incremental process to get there ... The most immediate action that we need is to calm things down. They're a little overheated right now.
At the same time, Trump took to social media to undercut Tillerson's comments. The president wrote on Twitter, according to CNN,
I told Rex Tillerson, our wonderful Secretary of State, that he is wasting his time trying to negotiate with Little Rocket Man. ... Save your energy Rex, we'll do what has to be done!
Trump is not one to be diplomatic. His first nine months as president has shown this. But the country is not a high school hallway where petty (there's that word again) fights break out among egotistically teens. The United States is facing the possibility of nuclear war, however small that chance may be. Poking the lion, at the same time you're dividing your camp, is not exactly a smart move.
But that's what the administration is doing with every tweet, every comment, every resignation, and every termination. The White House is not functioning as a strong unit. People are abandoning the camp one by one — whether it's outright or by calling the president a "moron" — and soon the lion will devour whomever and whatever is left.
Even if a nuclear war with North Korea is unlikely, that doesn't meaning exposing the vulnerabilities of this administration won't play to the country's advantages. The United States is only as strong as its weakest link, and unfortunately, Tillerson's remarks prove that the weakest link is sitting in the oval office.