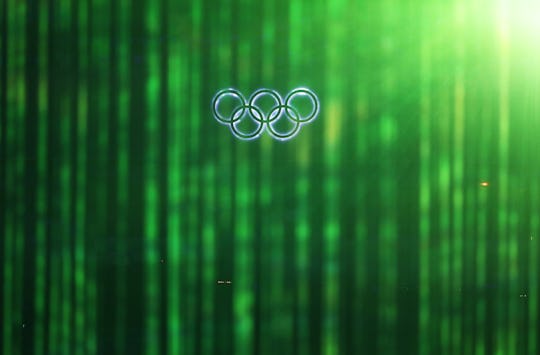 Ezra Shaw/Getty Images Sport/Getty Images
Rio Opening Ceremony Announcer Says Belgium Athlete's Brother Was A Suicide Bomber
As the Parade of Nations took place during the 2016 Opening Ceremony at the Olympics, a Rio opening ceremony announcer said Belgium athlete's brother was a suicide bomber — and Twitter was quick to pick up of the gaffe. The comment was made as the country entered Maracanã Stadium and, like they had with every country before, the announcer's supplied an interesting (or otherwise "fun") fact about each nation. One of Belgium's "fun facts," however, included drawing attention to the fact one of the athlete's participating in the Olympic Games from Belgium this year has a sibling who was a suicide bomber. Like most of the world wondered, I'm not exactly sure how thrilling that fact is.
The Olympics are, first and foremost, a way to celebrate the humanity that brings us all together. Yes, of course medal counts matter and every country wants their star athletes to win. Yes, every nation wants the opportunity to call themselves The Best and yes, no one wants to lose, but the Olympics are about so much more than the promotion of the self and even of the country. The games are the oldest-standing human tradition, and the Olympics have weathered every type of awful human storm that have come their way. Sure, the games are imperfect, but so are its competitors and so are the countries participating. Drawing attention to the fact that an athlete's sibling was a suicide bomber — a person who, for all intents and purposes, aimed to rip apart some thread of the humanity that holds us all together — not only insults said athlete and their country, it also spits on the very purpose the two(ish)-week long international event. It's irresponsible.
According to Reuters.com, Mourad Laachraoui won gold at the European Taekwondo Championships, earning himself a ride to Rio and a chance at history. He won gold in the Under-54kg in Montreux, Switzerland. His older brother Najim was one of the two suicide bombers who blew themselves up at the Brussels Airport earlier this year in March. In a news conference that took place after the attacks in Brussels, Mourad described his brother as a "nice, intelligent boy" who had "given no signs of being radicalized before he left for Syria." At the time of the attack, Mourad said that Najim was not even speaking to his family. He added, "You don't choose your family," and he's right.
Obviously the opening ceremony announcer isn't listening right now, but here's the problem with drawing attention to the fact that Mourad Laachraoui's brother is a suicide bomber: It's his brother's story, not his. I'm not so naive as to say that what happens to his family is not part of Mourad's story, but I know better than to assume that it's the only interesting fact about him. Did we forget that this man is an Olympian? That despite everything going on his life, he made it to the Olympics? What happened in Brussels was a tragedy. And we'll likely never understand exactly what was going on in the mind of Najim Laachraoui to make him do what we did. But Najim isn't Mourad — and that's an important distinction to make. It'd likely do the announcers a little good to pay more attention that.