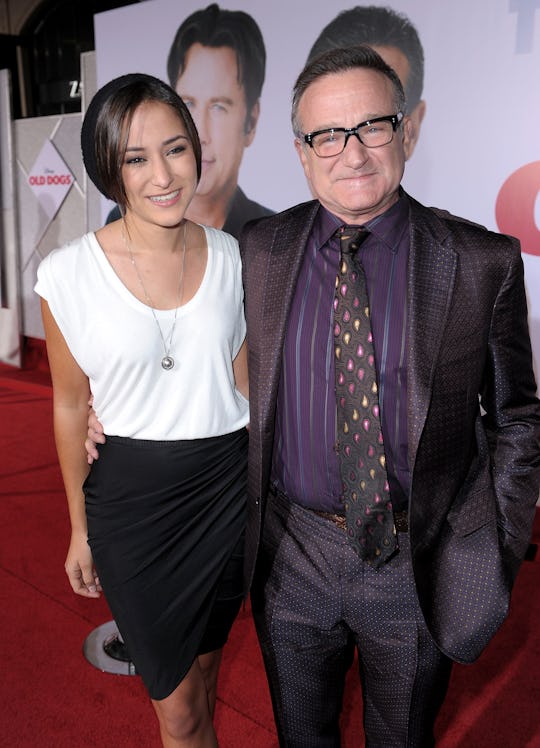 Kevin Winter/Getty Images Entertainment/Getty Images
Robin Williams' Daughter Wrote An Emotional Post To Honor Him On His Birthday
It has been almost four years since Robin Williams committed suicide in his California home. Four years for the world to keep on spinning, for people to go on living their lives. He's always remembered, of course, but for most of us he is remembered in that melancholy way of a stranger; you see one of his movies and sort of sadly smile. You watch Good Will Hunting and marvel at his talent, his ability to be funny and smart and sad and wise all at once. But we are strangers. Not like Robin Williams' daughter, who penned an emotional post to honor her father's birthday on Thursday. For her, remembering her father is miles more complicated and endlessly more present.
The legendary actor and comedian would have been 67 on Saturday. When he died in 2014 he left behind a wife. Susan Schneider Williams, and three grown children from two previous marriages, Zachary, Zelda, and Cody Williams. They are now 35, 28, and 26 respectively. After four years of having to deal with birthdays, holidays, anniversaries and so on, Williams' daughter Zelda made it clear in her Instagram post that some times are worse than others when it comes to mourning the loss of her father. And his birthday is especially difficult.
Zelda wrote in the caption of a picture she shared of herself with the Oscar award-winning actor:
It's that time of year again. Everyone who has dealt with loss knows the pain of certain anniversaries, moments full of memory that come round like clockwork and usurp all others, no matter how hard you may try to prepare for or avoid them. These weeks are the hardest for me, and thus, you'll see me a lot less, if at all.
Zelda, who is herself a writer, director, and actress, went on to discuss her complicated feelings about the outpouring of support and comments she receives about her father. On one hand, it's obviously lovely to know people cared about her dad. On another it's tough to deal with so many people reaching out at a difficult time:
For all the internet's good intentions in expressing to me their fondness for dad, it's very overwhelming to have strangers need me to know how much they cared for him right now. It's harder still to be expected to reach back.
Losing a parent when you're only in your twenties is devastating enough. But to lose a parent to suicide in such a public manner is beyond. And Zelda Williams wanted to make it clear to her father's fans that, as much as she appreciates their support, she's going to take time to grieve however she needs to.
So while I've got the strength, consider this my one open armed response, before I go take my yearly me time to celebrate his and my birthdays in peace. Thank you for loving him. Thank you for supporting him and his life's work. Thank you for missing him. I do too.
Zelda's insistence that she take care of her own mental health during a tough time feels especially poignant considering her father's struggle with depression throughout most of his life.
I understand the need to connect with someone when you're grieving. I also understand that millions of people were deeply touched by Robin Williams as a performer. But it's important to remember that his children aren't missing a performer; they're missing their dad. And they're not just missing him because he's no longer around to make new movies. They miss him because he's not around to be part of their lives any more. Their loss is profound, and terrible, and not comparable to that of his fans.
I hope people remember this before reaching out to Zelda Williams or her brothers for validation of their own sadness. And I hope that she can take time to remember her dad on his birthday however she sees fit.