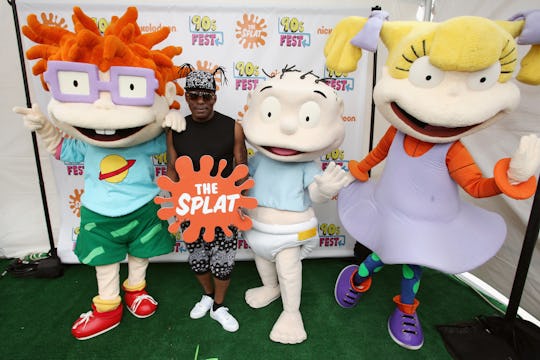 Donald Bowers/Getty Images Entertainment/Getty Images
OMG! New Episodes Of 'Rugrats' Are Coming To Nickelodeon!
As a child, one of the best times of day was when my all-time favorite TV show started playing on Nickelodeon: Rugrats. And I'm sure plenty of 90s kids can relate. Because the adventures of Tommy, Chuckie, Phil, Lil, Angelica, and Susie were pretty much the best. Even when I technically "grew out" of the target age range for the classic show, I still kept up with what was going on in the Pickles/Finster/DeVille/Carmichael families. And after I grew up and had kids of my own, I shared my love for Rugrats via Netflix. But now, I'm here to share with you that something even more exciting is on the horizon. That's because Rugrats is returning to Nickelodeon with new episodes — and millennials' dreams just came true.
On Monday, news of the upcoming 26-episode reboot, along with a live-action movie, started spreading like wildfire. The new episodes will feature the old gang (as well as new characters) right where they left off as babies, E! Online reported. "Rugrats is hands-down one of the most celebrated cartoons in TV history, and we are thrilled for a whole new audience to meet these iconic characters in brand-new adventures," Sarah Levy, COO of Viacom Media Networks and interim president of Nickelodeon, said in a statement. "What was true in 1991 when the original show premiered is still true today: kids are fascinated with the world of babies. We can't wait for today's kids to meet Tommy, Chuckie and pals."
So here's the scoop on the Rugrats series reboot. It turns out original series creators, Arlene Klasky, Gábor Csupó, and Paul Germain are all returning to the series as executive producers, Entertainment Weekly reported. (Which I'm guessing is good news for those who are worried too much will be changed about the beloved series.) Production is already underway, and more details — including casting and an airdate — will be announced in the coming months. As for the movie? Its release date is set for Nov. 13, 2020, and it's being directed by David Goodman.
"Now feels like the ideal time to reintroduce this iconic cast of characters to a whole new generation of young fans," said Brian Robbins, president of Paramount Players, in a statement, according to USA Today. "Kids who grew up with Tommy Pickles and the Rugrats crew will now be able to share that experience with their own children."
Plenty of Twitter users seemed excited about the prospect of new Rugrats episodes. One person appropriately tweeted a GIF of Tommy, Chuckie, Phil, and Lil rejoicing.
Another Twitter user wrote, "This Rugrats reboot about to be lit af."
Yet another seemed cautiously optimistic, "YES. The Rugrats is an amazing show! I'm happy it's getting revived! Nick seems to do good with reboots (Rocko's ML Special looks amazing). Not so sure about the movie tho. But we'll see! :D"
Still, some were highly skeptical. One Twitter user wrote, "I love the Rugrats but we've already seen them grow up to be teenagers... now they're going to be babies again?"
Another Twitter user chimed in with, "Any time a 90s show is recreated its crap...look at duck tales and ninja turtle. this better not be no animi looking crap original cast to do voices should return."
Yet another Twitter user posted a photo of a recreated title screen, writing, "Please don't ruin it." (I'd like to second that.)
Others were confused/disturbed about the prospect of a live-action movie. One Twitter user shared a GIF of a disgusted man shaking his head, also writing, "A live action movie?"
Another person tweeted, "My reaction to the news that there will be a #Rugrats movie that is a 'live-action film featuring CGI characters,'" along with a GIF of the title screen with, "No" written on it.
Yet another person pointed out, "What are they gonna do for a live action movie of Rugrats? Copy and paste talking lips over all of the babies faces?"
Although a premiere date hasn't yet been set for the Rugrats series reboot, you can bet I'll be tuning in with my kiddos whenever it finally premieres on Nickelodeon. You know, after we hit up Netflix so they can establish a proper appreciation for the characters in their original form. Because as excited as I am about this reboot, nothing beats this original 90s TV show.