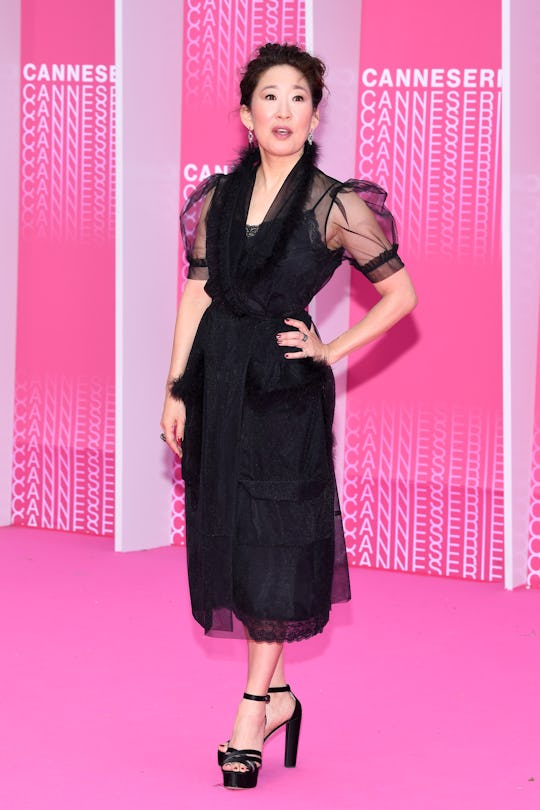 Pascal Le Segretain/Getty Images Entertainment/Getty Images
'Killing Eve' Fans Are Celebrating Sandra Oh's Best Actress Emmy Nomination
Killing Eve debuted to praise from critics and viewers alike, with particular attention being paid to Sandra Oh's starring role as Eve Polastri, an MI5 agent hot on the trail of an assassin named Villanelle. Many fans felt like Oh deserved an award for her performance, so they were undoubtedly thrilled when Sandra Oh was nominated for Best Actress in a Drama Series at the 2018 Emmy Awards.
Oh has had a long and illustrious career, previously endearing herself to viewers as the inimitable Dr. Cristina Yang on Grey's Anatomy. She won a Golden Globe Award for the role in 2006, but despite the fact that she was nominated for an Emmy for Outstanding Supporting Actress in a Drama Series a total of five times, she never won. It's about time she took home that little gold statuette, and fans are certainly rooting for her.
They're been taking to Twitter to celebrate Oh's accomplishment, though now that she's snapped up a nomination they're ready for her to score the win, too. It's going to be an especially tough category, as Oh shares space with Claire Foy (The Crown), Elisabeth Moss (The Handmaid's Tale), Tatiana Maslany (Orphan Black), Keri Russell (The Americans), and Evan Rachel Wood (Westworld). But if anyone could do it, Oh could.
Oh's nomination for Lead Actress in a Drama Series is more than just a hardworking and talented actress getting her due. It's something that will go down in history, because Oh is the first Asian woman to be nominated in that category. That may seem absurd in 2018, but it's true. Only two Asian actors have won in acting categories before: Archie Panjabi for Outstanding Supporting Actress for The Good Wife in 2010, and Riz Ahmed in 2017 for Outstanding Lead Actor in a Limited Series for The Night Of. Panjabi was the first actress of Asian descent to win an Emmy, but Ahmed was the first to win for a lead role. The Emmys have been around for 70 years, by the way.
Eve was a role that was particularly important to Oh as well, which makes it all the more exciting that it might be the one that finally earns her an Emmy. Despite her abilities and popularity, she had gone without major offers since leaving Grey's Anatomy. She appeared in an indie movie or two, tackled the stage, and took on supporting roles, but leads were scarce.
According to Vanity Fair, Oh didn't know what character was being offered to her when she first read the script for Killing Eve: she expected to come across a doctor or receptionist, but they wanted her for the lead. "It's like, 'Oh, it's so easy! They just called you!'" Oh said to the publication. "Right? In a way, yes, that's true. But in another way, it took 30 years to get this call."
Oh's nomination seems like the perfect storm. Not only is it historic, but it's for a show and a role that mean a lot to her — and mean a lot to viewers, too. The series is a unique project that shows off Oh's skills and gives her the space to do something really interesting, but it also provides needed representation for audience members who aren't represented enough. There are numerous reasons why fans are so happy to see her recognized for Killing Eve, and every one of them just makes the nomination all the more exciting.
It's impossible to know how it will all turn out when the Emmy Awards air on September 17, but right now it looks like Oh has a really good shot at ending Emmy night triumphantly. But whether she wins or not, her fans will be there to cheer her on every step of the way.