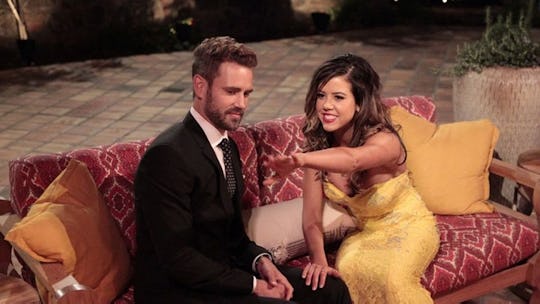 Rick Rowell/ABC
'Bachelor In Paradise's "Scallop Fingers" Was On 'The Proposal'
If you don't find love on The Bachelor, then the natural next step is Bachelor in Paradise, right? And if things still don't work out there, then you can always head to ABC's newest falling-in-love show, The Proposal, which is exactly what Bachelor Nation's own Christen Whitney, aka "Scallop Fingers" did. Yes, Scallop Fingers from Bachelor in Paradise was on The Proposal and she's still optimistic about finding love. The show was created by Mike Fleiss, the powerhouse behind all things Bachelor-related. Only this time, it's a much more fast-paced version of finding love on reality TV and getting engaged. As in, it all happens in the span of one episode and the contestants don't find out the identity of their intended until the very end of the episode.
It's still too early to know the turnaround rate on these engagements, but it's all in the name of love and reality TV and Christen totally gets that. In fact, she took to Instagram to explain her reasoning for going on the show before it aired Monday night: "Hi. You guys can tune in tonight after @bacheloretteabc if you want to witness me doing the cringiest thing I've ever done.... In all seriousness, I like to live my life to the fullest/take risks, and have fun. I never want to be someone who sits on the sidelines of my own life. I'm grateful to ABC for all of these adventurous opportunities!"
Side note: Scallop Fingers or not, you definitely don't have to explain yourself or your reasons for going on another dating show to find love, but this is where we are and after the whole Scallop Fingers fiasco, it's hard for some fans to take her seriously.
For those who don't know, the nickname came about last season on Bachelor in Paradise, when some of the other women on the show revealed that following a dinner out, Christen ate leftover scallops in the car with her fingers. And then reportedly touched another contestant with her "scallop fingers."
Then, of course, the producers of Bachelor in Paradise hooked her up with a fresh plate of scallops to feed into that nickname even before she realized she had one. It's not the most glamorous story by any means, but it is one of the more notable Bachelor Nation nicknames. Despite having a pretty unflattering nickname and embarrassing story behind it, Christen is always open to finding love, whether it's in real life or yes, on reality TV. Because even though Scallop Fingers didn't leave The Proposal as an engaged woman, she does believe it can work, as she wrote on Instagram.
"Let me break it down. Yes: it's a wild concept. No: I haven't lost my mind lol. Yes: I am always willing and open to new adventures. Yes: I can't wait to meet my person. No: I didn't think that I would experience love at first sight. Yes: I do believe some people can and DO!," she wrote, followed by an encouragement to fans to ask her any other questions about her involvement in the show and in Bachelor Nation as a whole.
She also added that in doing The Proposal, she had a good time and that her goal is to always "live my life to the fullest, take risks, and have fun." OK, can we seriously get this girl back on Bachelor in Paradise already? Among all of the contestants looking for more Instagram followers and to stretch that 15 minutes of fame just a little bit more, Christen is obviously open to actually finding real love. And no, not just with another plate of delicious buttery scallops.