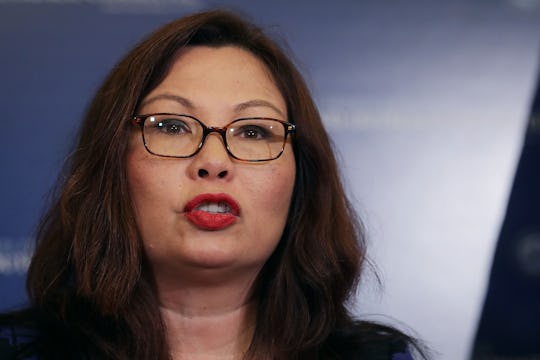 Chip Somodevilla/Getty Images News/Getty Images
Tammy Duckworth Announced She's Pregnant & It Marks A Historic First In The Senate
Women making history is something everyone can get excited about. Whether it's a woman putting out the highest-selling album of the year (I'm talking about you, Taylor Swift), or being the first major-party candidate to run for president, it's always something to celebrate. And now, Sen. Tammy Duckworth is expecting her second child and her pregnancy will mark a historic first. As the Chicago Sun-Times reported, Duckworth isn't the first woman to give birth while in office (she'll actually be one of 10), but she will be the first woman to give birth "while serving in the chamber."
The Illinois senator is reportedly due in late April, "a few weeks after she turns 50," as the Chicago Sun-Times reported. In a statement obtained by CNN, Duckworth expressed her excitement about being pregnant, and the Democratic senator also made it clear that she was totally ready to continue being a working mom:
Bryan and I are thrilled that our family is getting a little bit bigger, and Abigail is ecstatic to welcome her baby sister home this spring. As tough as juggling the demands of motherhood and being a Senator can be, I'm hardly alone or unique as a working parent, and Abigail has only made me more committed to doing my job and standing up for hardworking families everywhere.
Clearly, Duckworth is dedicated to her job serving the people of Illinois, and she's going to continue doing so while also showing little girls everywhere that being a woman should never stop you from going for it. And Duckworth has already led a pretty extraordinary life before becoming a member of the Senate. According to CNN:
Duckworth is a retired Army lieutenant colonel who was a helicopter pilot in the Iraq War. She was the first female double amputee from the war after suffering severe combat wounds when her Black Hawk helicopter was shot down. After retiring from the Army, she was elected to Congress in 2013.
While Duckworth is already a mother, her journey to get there has been seriously incredible. After serving the United States military, losing both of her legs, and then getting elected to Illinois' 8th Congressional District in 2012, she and her husband tried to get pregnant. Per the Chicago Sun-Times, "Duckworth and her husband, Bryan Bowlsbey, tried various fertilization methods over a period of years before Abigail O'kalani Bowlsbey was conceived through a form of in vitro fertilization."
Clearly, Duckworth is used to tackling some pretty big hurdles in life, something she also made clear when she stood up to President Donald Trump earlier this month. After Trump slammed Democrats for shutting down the federal government via Twitter, Duckworth was not having it, and she gave a pretty epic speech on the Senate floor Saturday calling him out.
On Friday, the federal government was shut down due to the Senate's failure to pass a budget. And while Republicans have control of the House, Senate, and White House, Trump still blamed Democrats for what was happening, something Duckworth was not OK with. Per CNN, Duckworth said:
I have a message for Cadet Bone Spurs: If you cared about our military, you'd stop baiting Kim Jong-un into a war that could put 85,000 American troops — and millions of innocent civilians — in danger. You'd stop hiding behind your Twitter account, stop blaming everyone else. You would tell your party — a party that controls the House, Senate and the White House — to do their job. Stop allowing the most extreme wing of your party to prevent us from passing a long-term funding solution that the military itself -- your own leaders that you nominated and appointed -- is asking for.
And now, it's been confirmed that the strong, independent, successful woman who stood up to Trump and fought for her country is having a second daughter and making even more history on the way.
Check out Romper's new video series, Romper's Doula Diaries:
Watch full episodes of Romper's Doula Diaries on Facebook Watch.