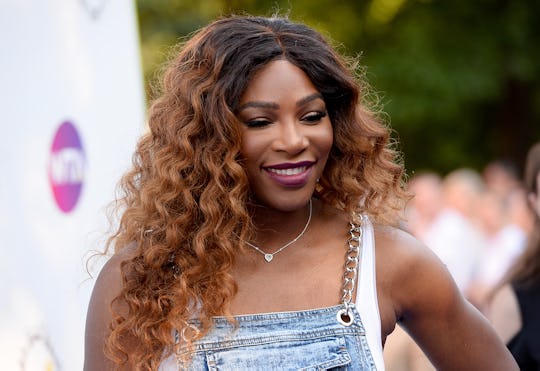 Eamonn M. McCormack/Getty Images Entertainment/Getty Images
This Is How Serena Williams Made The Emotional Decision To Stop Breastfeeding Her Daughter
Breastfeeding has become a divisive issue for moms for some ridiculous reason. Which is why it was pretty brave of tennis champion Serena Williams to get candid about her own experience nursing her child, given the potential backlash her comments might have sparked. Over the weekend at Wimbledon, Serena Williams opened up about why she stopped breastfeeding her daughter and how emotional of a decision it was.
Williams said in an episode of her HBO documentary, Being Serena, back in May that it was a practical choice at first. She said that she wasn't losing the weight she put on while pregnant, and while that might not be a big deal to some women, it was messing with her tennis training schedule. Williams explained, according to Yahoo! News, "The truth is I miss my body, being able to do other kinds of amazing things. I miss playing tennis. Mostly, I miss winning. Winning's always been the way I define myself, and I want it to stay that way for a long time."
Williams endured some criticism for stopping after six months, given that pediatricians and health professionals recommend breastfeeding for the entire first year. But it's not like moving to formula hurts an infant, which is why it's ultimately a really personal decision for a woman to make, as Williams said in an interview with reporters this weekend in London, as reported by USA Today.
Williams didn't come around to the decision lightly. "It was interesting because all these articles, over pop culture, you hear when you breastfeed you lose weight, you're so thin. That wasn't happening to me," she said, according to USA Today. "What I've learned through the experience: Everybody is different, every person is different, every physical body is different. For my body it didn't work. No matter how much I worked out, no matter how much I did, it didn't work for me."
So she listened to her trainer and what was important to her. Williams added over the weekend that she and baby Olympia had a little heart-to-heart convo about it all, so she was informed about what changes were happening. The tennis champ said, according to USA Today:
Once I got to six months I felt good about it. Then it was just emotionally letting go. I literally sat Olympia in my arms, I talked to her, we prayed about it. I told her, "Look, I'm going to stop. Mommy has to do this." I cried a little bit, not as much as I thought I was. She was fine. ...After [I stopped], like I literally lost 10 pounds in a week, I just kept dropping.
So it worked. She went on to further explain her decision for anyone who still didn't get it; Williams is not about shaming anyone for their choices, she said. If anything, the reason she spoke about it in public was to let other women know that they weren't alone. According to USA Today, Williams said, "I wanted to say that so women out there know that's not true (about losing weight). Everyone takes things different. I think it's important for us to share that message."
Some women don't have the privilege of deciding to stop breastfeeding, of course. Because of any number of reasons — like stress or postpartum depression, which are pretty common conditions among new moms — a woman might not produce enough milk for her infant. Or maybe her schedule doesn't really allow for it, or she just really doesn't like doing it. Everyone should be able to make an informed decision about how they feed their child without feeling the need to constantly defend those choices.
So let's all give a round of applause for Serena Williams, who never fails to inspire and empower women all around her by sharing her life with them. Just by being open, she's likely helping more people than she even knows.