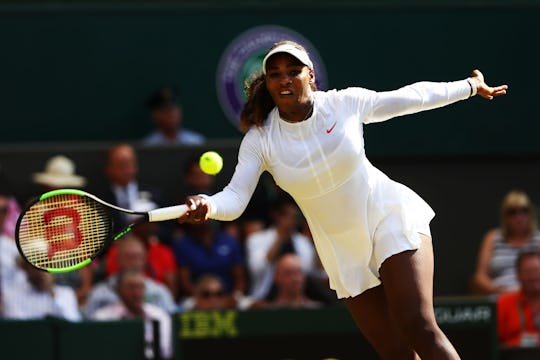 Matthew Stockman/Getty Images Sport/Getty Images
Serena Williams Missing Her Daughter's First Steps Is An Inevitable Parenting Reality
From the moment a parent first holds their brand new baby, they've embarked on a journey like no other. This child — this tiny, helpless infant — depends on them for their every need. And then ever-so-gradually, that baby starts hitting important milestones and therefore creeps toward becoming their own, independent person. Her first smile, his first time rolling over, those first steps— it all happens at such a slow rate, it's almost impossible at times to determine if you've truly witnessed a "first" or not. Inevitably, some actual "first" will happen during the 5 minutes you hop in the shower and your little one is hanging out with your partner. (Because of course.) That's probably why Serena Williams missing her daughter's first steps is more relatable than you might think.
As People reported, Williams, 36, welcomed her first child, Alexis Olympia Ohanian Jr., with her fiance, Reddit co-founder Alexis Ohanian, on Sept. 1. By my calculations, that puts her daughter a little over the 10-month mark at this point — which means she's at her prime for beginning the cruising/walking stage. On Saturday, a distraught Williams shared something with her Twitter followers that probably a lot of parents can relate to. "She took her first steps ... I was training and missed it. I cried," the tennis star tweeted, E! Online reported. Luckily though, the tennis pro's followers were quick to lift up the upset mama with words of encouragement.
One person replied, "She missed you winning 23 grand slam titles but will still know you're the best tennis player of all time. You'll have thousands of magic moments with her don't worry!" (Another Twitter user corrected this person, noting that Alexis Olympia only missed 22 — as Williams was actually pregnant when she won the Australian Open, Fit Pregnancy reported.)
Another Twitter follower wrote, "My motherhood rule: the first you see is the first time it happened FULL STOP!"
Another follower wrote, "Oh Serena, I'm sorry! Look at it this way, when you see her do it again, it will be the 1st steps for you!! STILL VERY SPECIAL!! Don't beat yourself up!!"
Yet another follower chimed in with, "I babysat children. I saw most of their 'firsts'... I never told their parents... They told me on the Monday morning drop off that they had their "first" steps, word, etc..."
Adoring/amazing fans aside, something else that Williams has "sacrificed" for the sake of her successful career is cutting her breastfeeding journey short, Today reported. Apparently, the tennis pro was having a difficult time dropping enough weight while still nursing her daughter — unlike so many people who claim that breastfeeding practically melts away the pounds. "I feel like everyone says, 'You're so thin when you breastfeed,'" Williams said during a London news conference before a Wimbledon tournament match. "What I've learned through the experience — everybody is different, every person is different, every physical body is different," she said. "For my body, it didn't work, no matter how much I worked out, no matter how much I did, it didn't work for me."
However, once Williams stopped breastfeeding, she managed to lose 10 pounds in just one week, according to Today. She explained:
It was crazy. I just kept dropping. That's when I learned that everything was different. Sorry to go on about that, but I wanted to say that so women out there know that's not true. Everyone takes things different. I think it's important for us to share that message.
I'm not gonna lie; it's a bummer that Serena Williams missed her daughter's first steps while she was training. I'm sure this is something plenty of other working parents lament over on a regular basis. (I know I did when I worked outside of the home.) Here's the thing, though: Even if you're with your kiddo s24/7, there's always a chance you're going to miss a milestone — whether or not you even realize it. For some reason, my kids always decided to take their first steps when someone else was with them for like, 2 seconds. I swear. Every. Single. Time. So please don't beat yourself up too badly about missing Alexis Olympia's first steps, Serena. As your compassionate Twitter followers pointed out, it will be just as amazing the first time you see it — and you'll have the opportunity to witness many more milestones to come.