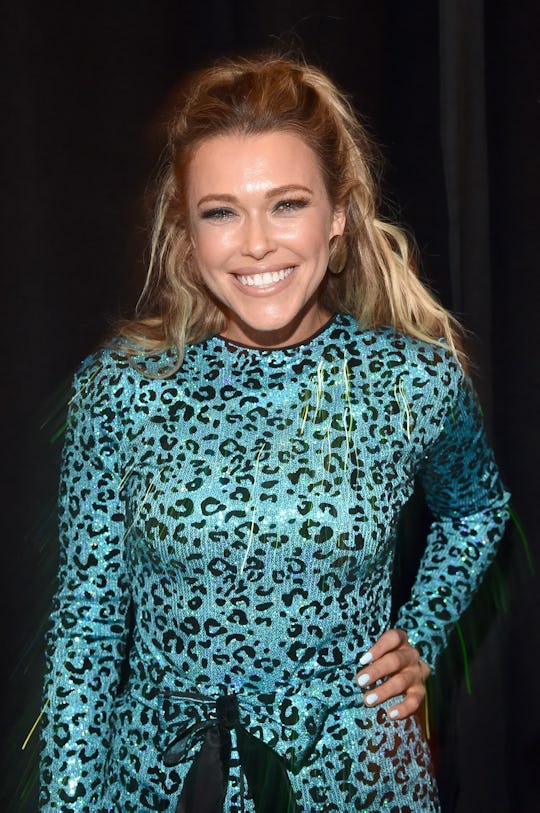 Alberto E. Rodriguez/Getty Images Entertainment/Getty Images
Singer Rachel Platten Just Revealed She's Pregnant With Baby No. 1!
When you hear the name Rachel Platten, the first thing that probably comes to mind is her hit single, "Fight Song." Because let's face it — it was super catchy, and not to mention, totally inspiring. Although Platten has come out with many other songs and a couple of albums since then, she's mostly flown under the radar, as far as celebrity news is concern. Well, not today! That's because singer Rachel Platten revealed she's pregnant with her first child in a series of sweet tweets.
Platten took to social media on Wednesday to share her exciting news. "This is one of my most exciting announcements, but also one of my most vulnerable. So here goes.... I am pregnant!!" the 37-year-old expectant mama wrote on Twitter on Wednesday, July 25. Platten and her husband, Kevin Lazan, have been married since 2010, according to Us Weekly, and this will be their first child together.
Not only did the "Stand By You" singer share a bump photo along with her announcement, if you look in the comments section of her tweet, she offered a closer look into her struggle with figuring out how to share the news — along with how her pregnancy has gone so far. "The truth is, I am overwhelmed with love, joy and happiness about our baby. It's a total miracle that I'm growing a human and my husband and I couldn't be more thrilled," Platten wrote.
Platten went on to detail how difficult her first trimester had been thanks to exhaustion, constant nausea, vomiting, and other unpleasant symptoms. (You know, all of those sucky side effects of pregnancy that most people have a tendency to gloss over on social media.)
"I was so afraid that if I shared that part (the difficulty of flying and performing while puking in green rooms and airplanes) that I'd seem ungrateful somehow when I'm actually crazy full of gratitude - I'm just HUMAN," she wrote. "Human emotions are complex." Platten continued:
With all the mystery and wonder around this, one thing that has been abundantly clear to me: this little unbelievable soul that I haven't even met yet is going to be my biggest teacher in the world and I cannot wait to learn.
Wrapping up her heartfelt announcement, the expectant mom promised to share as much of her pregnancy journey with fans as she can. Platten signed off with, "Xoxoxox, a totally happy, exhausted, not so nauseous today Rach."
I think it's safe to say Platten's fans promptly lost their minds with excitement for the mom-to-be. "OMG CONGRATS RACHEL!! I literally just about screamed. I'm so happy for you," one follower commented.
Fellow singer Christina Perri also expressed her shock and joy for Platten. Perri wrote, "Omgggg this photo is EVERYTHING!! LOOK AT YOU, MAMA!!!!!"
Yet another follower commented in all-caps, "HOLY CRAP SHES GONNA BE SUCH A SWEET AND AMAZING MOM."
While I, too, am unexplainably pumped that Rachel Platten is expecting her first child, I can also totally feel for her first trimester struggles. It isn't clear yet how far along the singer is at this point, but considering she had an "incredibly difficult spring and summer" — and that it's common to wait until around 12 weeks along, when the risk of miscarriage drops dramatically, according to BabyCenter — it sounds like she could be pretty close to where I am in the human-growing process, and past her first trimester. Because I also felt like a perpetually exhausted, nauseated shell of a human during this timeframe. (Granted, I didn't have to appear on stage for performances or anything; but it still was not the best.) So I completely understand the struggle of feeling joy about a pregnancy — while at the same time wanting to stay in bed with a barf bucket all day long.
On behalf of puking pregnant women across the nation, I thank Platten for her honesty. And congrats, mama!