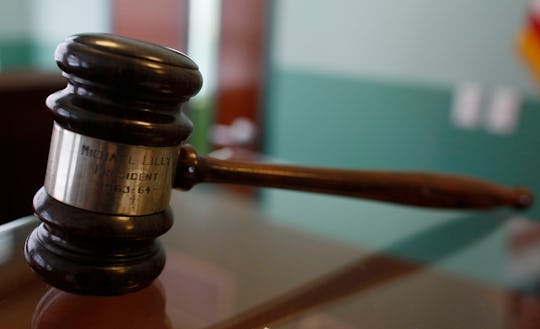 Joe Raedle/Getty Images News/Getty Images
15-Year-Old Sentenced In Slender Man Case To 40 Years In Mental Hospital — REPORT
In 2014, two 12-year-old girls lured a classmate into the woods, stabbing her 19 times in order to please a fictional horror character. Today, as reported by the Chicago Tribune, the Slender Man case verdict sentenced one of the teens, Morgan Geyser, to 40 years in a mental hospital. The victim, Payton Leutner, survived the attack.
According to the Chicago Tribune, Judge Michael Bohren, who carried out the sentencing of Geyser, said that the 15-year-old is still at risk to hurt herself or others. Bohren stated that even though the girls were young when they attacked their classmate, he cannot rule out the fact that the act was an attempted murder. CBS News reported that the other teen involved, Anissa Weier, received her sentencing on Dec. 21, 2017 and she received a lesser sentence. Weier was ordered to serve 25 years in a psychiatric institution, starting from the date of the crime in 2014, the outlet reported.
Weier and Geyser previously stated that their reasoning for stabbing Leutner was to protect their families and become servants of Slender Man, a mysterious figure that was created in 2009, according to CBS News. The Washington Post reported that Slender Man was made in a forum online and the character was created from photoshopped pictures. Slender Man is an overly tall and lanky dark figure, who some believe to be a kind of demon. The creator of Slender Man, Eric Knudsen, told NBC News that he was "deeply saddened" to hear that his creation inspired the stabbing.
Just before Bohren issued Geyser's sentence, she apologized to Leutner and her family, breaking down in tears, according to the Chicago Tribune. According to investigators, Geyser received a longer sentence than Weier because she carried out the actual stabbing, while Weier "urged her on," as reported by NBC Chicago.
The stabbing occurred on Saturday, May 31, 2014, in Waukesha, Wisconsin. After Leutner was left for dead, she crawled to a nearby road and out of the woods, according to Fox News. A bicyclist found her and called 911. Initially, Geyser and Weier were charged with attempted first-degree intentional homicide, as reported by Fox News. Geyser pled guilty with a plea deal in October 2017 and she underwent analysis from Dr. Brooke Lundbohm during the trial. According to Lundbohm, the stabbing incident "was not a close call," as Fox News reported. She went on to explain that Geyser had been hearing voices as recent as September 2017 and that she heard a voice in her head from someone named "Maggie". Lundbohm stated that Geyser remains a danger to herself and community today, Fox News reported.
According to Fox News, however, another doctor named Dr. Kenneth Robbins gave a different take on Geyser in his testimony. "I believe at the present time she is no more dangerous than any adolescent her age," he said, according to the news outlet.
The Chicago Tribune reported that, though the doctors who evaluated Geyser had conflicting opinions, they did argue in court documents that Geyser suffered from schizophrenia and psychotic spectrum disorder.
Over the course of the trial, in early 2017, Geyser's mother Angie told USA Today that she knew about her daughter's interest in Slender Man. "While I wasn't thrilled about her interest, I didn't really see the harm in it either," she said, according to USA Today. "We never thought for a moment that she could possibly believe that it was real."
USA Today also reported that the victim had been a good friend of Geyser's since the fourth grade, but that Geyser failed to showed much emotion during questioning. When asked about the stabbing, according to USA Today, Geyser's response was: "It didn't feel like anything. It was like… air."
According to ABC News, Geyser's mother said there were no red flags or signs of violence, though she did say her daughter lacked compassion while growing up. ABC News reported that prior to her sentencing, Geyser told the court that she hopes Leutner is OK today, stating: "I never meant this to happen. I hope that she's doing well."