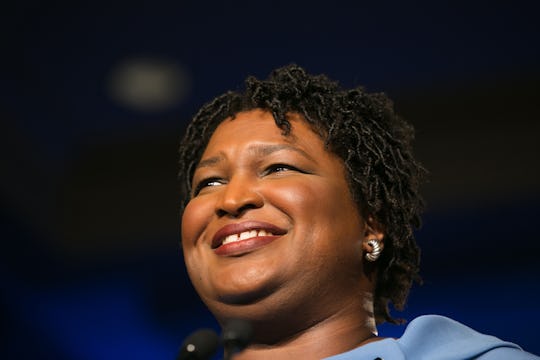 Jessica McGowan/Getty Images News/Getty Images
Stacey Abrams' Response To Trump's 2019 SOTU Address Deserves A Standing Ovation
President Donald Trump's 2019 State of the Union address on Tuesday evening touched on a number of hot button issues facing the nation right now. From immigration to drugs to border security to reproductive rights, it's no surprise that former Georgia House Minority Leader Stacey Abrams' Democratic response to his speech was eloquent and beautifully held no punches.
Moments after the POTUS wrapped up his address on Feb. 5, Abrams spoke directly to the American people with a powerful speech that responded to many of Trump's problematic policies since moving into the Oval Office. For instance, according to NBC News affiliate WESH, Abrams discussed that Democrats believe families are being "crushed" by leadership under Trump.
Additionally, Abrams responded to Trump's efforts to attack on birth control and safe abortion access. In his own address, Trump blasted New York's new legislation allowing later abortions and called on Congress to ban the medical procedure, according to The Hill. "To defend the dignity of every person, I am asking the Congress to pass legislation to prohibit the late-term abortion of children who can feel pain in the mother's womb," Trump said during his address on Tuesday.
In Abrams' response, she poignantly pointed out the progress the nation has made in "reproductive justice" since Roe v. Wade was enacted decades ago and how a woman's freedom to choose should not be at risk in the name of politics. "America achieved a measure of reproductive justice in Roe v. Wade, but we must never forget it is immoral to allow politicians to harm women and families to advance a political agenda," she said on Tuesday.
Beyond those empowering statements, Abrams also called out Trump's recent government shutdown, the longest in modern U.S. history, according to Politico. "The shutdown was a stunt engineered by the president of the United States," Abrams said, as Deadline reported.
Additionally, Abrams also highlighted the cruelty that's been happening at the border that has led to thousands of immigrant families being separated since the summer. "This administration chooses to cage children and keep families apart," Abrams said, according to CBS News, adding:
Compassionate treatment at the border is not the same as open borders. President Reagan understood this. President Obama understood this. Americans understand this. And Democrats stand ready to effectively secure our ports and borders. But we must all embrace that from agriculture to healthcare to entrepreneurship, America is made stronger by the presence of immigrants — not walls.
Abrams also addressed the state of health care in America, citing harrowing personal stories about her father. "My father has battled prostate cancer for years. To help cover the costs, I found myself sinking deeper into debt — because while you can defer some payments, you can't defer cancer treatment," she said, according to The Atlanta Journal-Constitution.
Abrams wrapped up her response to Trump's SOTU address with a message to America to keep fighting for freedoms that are at risk.
"Our progress has always found refuge in the basic instinct of the American experiment — to do right by our people. And with a renewed commitment to social and economic justice, we will create a stronger America, together," she said, according to CBS News. "Because America wins by fighting for our shared values against all enemies: foreign and domestic."
She concluded, "That is who we are and when we do so, never wavering — the state of our union will always be strong."
After Trump's SOTU address, Abrams' response was a stern but wonderful breath of fresh air. There is hope and the fight is not even close to over.