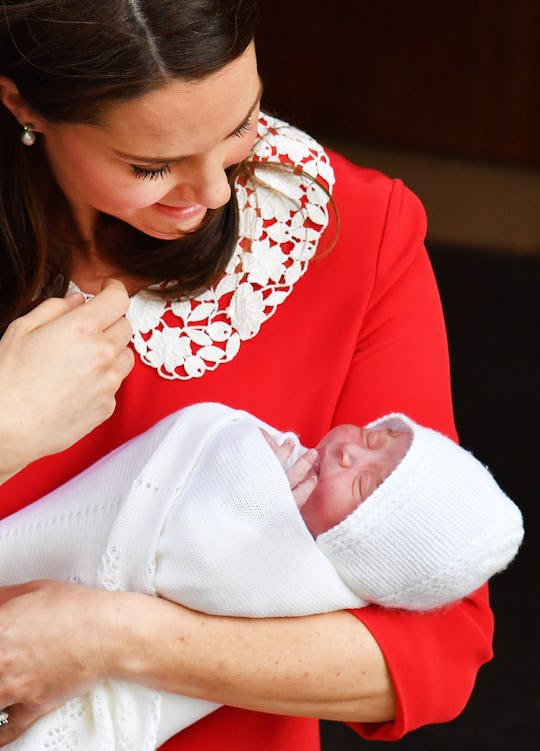 WPA Pool/Getty Images Entertainment/Getty Images
The Archbishop Christening Prince Louis Reveals Why He's Nervous For The Young Royal's Ceremony
This year has been a very exciting time for the royal family. This past spring marked two monumental chapters in the family's legacy: A royal wedding and the birth of Prince William and Kate Middleton's third royal baby, Prince Louis. And the excitement continues this week when Prince Louis is christened. It's undoubtedly very exciting for his family to witness as well as the entire world watching from afar, but it's also nerve-wracking for those actually involved in the big day. In a recent interview, the archbishop who will christen Prince Louis said he's got some nerves about his responsibilities at the royal baby's ceremony. And given that the entire world is watching and the fact that royalty will soon be in his hands, it's definitely understandable why he might be.
On Monday, all of the very important people within the royal family will dress up and come together to honor Prince Louis on the day of his christening. It's during this private ceremony in the Chapel Royal at London's St. James Palace, according to Hello! Magazine, where the new addition to the royal family will be baptized and welcomed into the Church of England, according to TIME. Given that the baptisms of royal babies are rich with tradition, this is a huge moment within the royal family. So it's understandable that those involved in the ceremony might feel a bit of pressure, like Archbishop of Canterbury Justin Welby, who will christen Prince Louis on Monday, according to People.
In a new interview with the BBC on Friday, Welby stated that he is (understandably) nervous for the big day. Welby told the BBC that the event will be "nerve-wracking" but a "great privilege" nonetheless.
Welby went on to tell the BBC:
You know, if you're at the royal wedding don't drop the rings and if you're at the baptism don't drop the baby. They're a wonderful family, there's a lot of love and it'll be a great occasion.
Of course, Welby was joking about dropping Prince Louis — so people shouldn't worry about the littlest royal. But at the same time, people have to understand where he is coming from: a lot of eyes are going to be on Welby during the christening. This, combined with the fact that Prince Louis is a very important baby and his family is one of the most important families in England, is enough to bring on the nerves for anyone.
But the good news is, it doesn't seem like Welby suffers from stage fright when it comes down to actually performing his duties; the archbishop is skilled at baptizing babies. Not only did he baptize Prince Louis' older sister, Princess Charlotte, in 2015, according to The Telegraph, but he also baptized Prince George in 2013, according to Hello! Magazine. One year after christening Prince George, Welby only had amazing things to say about the experience. In 2014, during his first message in the new year, Welby reportedly stated that he had to "pinch himself" during the ceremony, according to Express, and said that the christening was an "incredible high point" of his year.
So if he was able to make it through the first two christenings without a hitch, it is likely that Prince Louis' christening will go just as smoothly.
But Prince Louis' christening isn't even Welby's biggest event this year. In May, Welby married Prince Harry and Meghan Markle, according to People. Even though Welby told The Guardian just days before the royal wedding that he was excited but "really, really nervous" about dropping the wedding rings, he didn't let his nerves get the best of him. The wedding went off without a hitch, thanks in part to Welby's officiating of the ceremony, which millions of people around the world tuned in to watch, according to CNN.
Although Welby has been open about his nerves in the past, he hasn't let them get in the way of doing his job on these special days. And looking at his accomplished résumé, Prince Louis' christening on Monday will be just as remarkable.