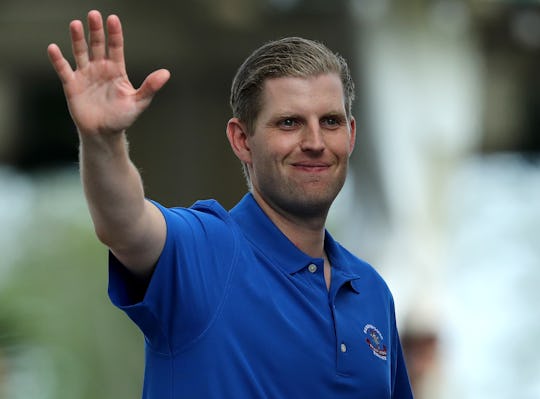 Elsa/Getty Images Sport/Getty Images
The GOP Asked Twitter To Wish Eric Trump A Happy Birthday & Got More Than They Wanted
Saturday marked Eric Trump's birthday. As a private citizen who just happens to be the second oldest son of the President of the United States, his birthday shouldn't really matter to anyone but, like, his friends and family. Am I right? Apparently not. Because the GOP asked Twitter to wish Eric Trump a happy birthday, and I'm not sure what they were thinking. Because they definitely didn't get what they wanted.
Eric Trump is the second son of President Trump and his first wife, Ivana Trump. Eric turned 34 on Saturday, and members of his family naturally took to Twitter to wish him many happy returns. Eric's older brother and business partner Donald Trump Jr. shared a picture of himself putting his little brother in a headlock with the caption, "Happy birthday to the best little brother ever... @erictrump you don't look a day over 60." Similarly his sister Ivanka Trump wished him a happy birthday on Twitter. That's totally normal. A government organization asking its followers to wish a private citizen happy birthday... not so much. While members of the GOP probably had something sweet and thoughtful n mind when they posted a call to send Eric Trump a birthday message on their official Twitter feed, it doesn't look like it worked out that way.
This might seem innocent enough, of course. Eric Trump is the son of the president, after all. But he's also running his father's massive corporation alongside his older brother, a company that has ostensibly cut all ties to the government to clear any doubt of potential impropriety or overlap between Donald Trump's job as president and his interests as the head of The Trump Organization. A small fact some clever tweeters couldn't help noting when they took their turn to sign Eric's online birthday card.
Some people were wondering if this was possibly a new service offered by the GOP; any Republican can enjoy a birthday card greeting from the GOP's official Twitter, apparently, even a private citizen.
There were other social media users who were more than happy enough to send Eric Trump a virtual birthday card via the official Twitter page of the GOP. They were even willing to throw in a thoughtful present. Specifically a book written by Michael Wolff that's been getting loads of attention these days called Fire and Fury.
For those of you who might not have heard of it, Fire and Fury: Inside The Trump White House, is causing ripples for several reasons, not the least of which by painting the president himself as an "idiot surrounded by clowns," as described by the author Wolff. While I'm sure Eric Trump might appreciate a gift, this might not be high on his list of must-reads for 2018. Or he's already read it cover-to-cover 200 times, it's tough to tell at this stage.
Despite some of the clear hostility being borne out on Twitter against Eric Trump and the GOP, there were many people who remembered his birthday of their own accord and didn't need an invitation to wish him well.
Sadly, Eric's dad was busy celebrating Secretary of Education Betsy DeVos' birthday at Camp David.
For what it's worth, I do hope Eric Trump has a nice birthday. I hope his dad remembers to call him, I hope someone bakes him his favorite birthday cake, and that he feels like he gets to be the number one Trump. Because I have serious doubts that he ever gets to be the number one of anything in his driven, ambitious, competitive family where being number two is probably considered unacceptable.
Go be number one today, Eric. Enjoy.