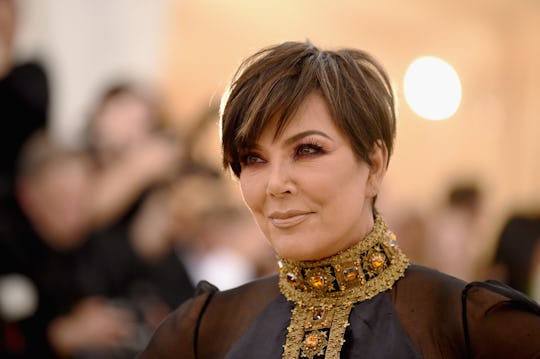 Jason Kempin/Getty Images Entertainment/Getty Images
Kris Jenner Loves All Her Grandkids, But She Has An "Amazing Connection" With One
The Kardashian clan's supermom/momager/family matriarch is always photographed out and about doing nice things and shopping for her ever-growing brood of grandbabies. So even though she's clearly a super-devoted grandparent in spending time with all of her kids' kids, there is one grandkid Kris Jenner has an "amazing connection" to, and it won't really surprise anyone exactly who it is.
According to Us Weekly, 62-year-old Jenner is like most grandparents in making sure that people understand that the grandparent-child bond is so strong, it's not really about playing favorites. You love each one of your kids' little ones, I would imagine, just as you love each of your own children in a unique way. But Jenner did admit, according to Us Weekly, that among her nine grandkids, she maintains a unique bond with 8-year-old Mason, her oldest daughter Kourtney Kardashian's oldest son, whom she shares with ex Scott Disick. Jenner told the magazine that she and Mason have "an amazing connection."
The Keeping Up With the Kardashians matriarch added, according to the same Us Weekly interview, that she's "close to all the girls because we do a lot of fun, girly stuff... On vacation, I think I was attached to Reign... You know it changes every day. The babies are just starting to get animated so that's cute. There's a lot of personalities."
Fun fact: Jenner originally did not want to be called "Grandma," preferring the name "Lovey" instead, according to the Daily Mail . "At first I was Grandma, and all of a sudden I didn't like the way that sounded, my mom had a friend called Lovey and I thought that was the cutest name," she explained in 2013, according to the Daily Mail.
Having been has been filmed taking her grandkids out for ice cream and a movie and shopping for loads of baby gifts for her new grandkids, the senior Kardashian seems to be just loving her role as "Lovey."
As if being able to spoil your kids' kids wasn't exciting enough for a regular grandparent, imagine being Kris Jenner this year; she's had three brand new Kardashian grandbabies to lavish love (and goodies) on!
First there was Kim Kardashian and Kanye West's third baby, daughter Chicago, born at the very beginning of the year, followed by Kylie Jenner welcoming her first baby, daughter Stormi, with Travis Scott in February. Then finally, in April, Khloé Kardashian welcomed her own first daughter, True, with her boyfriend, NBA player Tristan Thompson.
"It's a whole 'nother dimension of love and family, and feeling so lucky to be where we are today," Jenner told People about grandmotherhood earlier this year.
As for Jenner's special relationship with eldest grandkid Mason, although no studies or scientific data absolutely confirm that first grandkids are typically favorites, it really does sometimes look that way in families. (For example, my mom loves all the grandkids, but on the phone she does often ask first about the welfare my oldest daughter, who was the original grandkid out of four.) In fact, a 1990 article published in The New York Times confirms the tendency, explaining that the firstborn grandkid changes a family's dynamic forever, and simply by having that role, one grandkid can appear to have more clout than the others.
Well, whatever secret biases Jenner (or any grandparent) may or may not have, there's no question the momager has her hands full with the next generation. And with a "new" crew of KarJenner babies to keep her busy, Grandma Kris, I mean Lovey, will surely be having a ball for years to come.