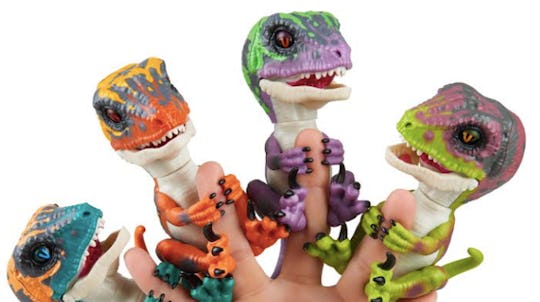 WowWee
The Newest Fingerlings Are So Ferociously Adorable, Your Kids Will Be Begging For One
Chances are that if you've got a kid, that kid has got a Fingerlings obsession. The finger-clinging toys sold out this past holiday season, and now the creators are introducing the newest Fingerlings, UNTAMED, to the mix. These tiny raptors come with the tagline, "Putting ferocious at your fingertips," so obviously your kids are going to go nuts over them. It's like Jurassic Park if it all fit on your hand, instead of a movie screen. It's just too bad that one of the figurines isn't a miniature Jeff Goldblum, right?
The toys come from Montreal-based company WowWee, which will begin selling the newest critters online and in-stores in Canada, the United Kingdom, and Australia this week, according to Markets Insider. But not to worry, American parents. The toys will come stateside in May, according to Kidscreen, so maybe just don't mention them to your kids quite yet, unless you want the next month and a half to be an agony of waiting and your kids begging you to make time to speed up.
The newest UNTAMED Fingerlings come with four different raptor characters, named Stealth, Blaze, Fury, and Razor. According to the company's press release via Kidscreen, each of the little dinosaurs has its own personality, and will interact with their kid owners in different ways. So naturally, children will be begging for them all. Luckily, they're set to retail at $14.99 apiece, according to the company's press release, so they shouldn't break the bank like, say, buying your kid every single American Girl Doll, which is absolutely something I begged my parents for unsuccessfully when I was young.
According to the company's press release about the newest Fingerlings:
Complete with snapping jaws and gripping claws, these fierce and friendly interactive pets react to touch, motion, and sound with over 40 different sounds and animations. Collect them all to unleash their full ferocity at your fingertips - these pets are yours to tame, and the control is in your hands.
It's an exciting time for WowWee. The toy company has been around for a while, but it really skyrocketed to fame last year when it debuted its mini robot monkeys, which were an instant hit with kids for their entertaining features like farting, burping, and ability to blow kisses, too. The toy quickly became a bestseller on Amazon, and a Toys "R" Us representative told CNBC Make It in December 2017 that the toys "essentially evaporate from our shelves... [with] customers lined up outside our stores in the wee early morning hours hoping to get their hands on one."
Just recently, Fingerlings won "Collectible Toy of the Year" and "Overall Toy of the Year" at the 2018 Toy of the Year Awards. On top of that, the brand manager responsible for creating and popularizing the toy, Sydney Wiseman, won the "Wonder Woman in Toys" Creator of the Year Award just last month for her work on the toy. So it's a good time to be involved with Fingerlings.
The newest take on Fingerlings in raptor form — as the company describes as "a line of interactive predators that you can control from friend to foe" — are sure to be a hit, just like the adorable sloth Fingerling and Gigi the Unicorn were this past holiday season. But, hopefully the OG crew will be able to keep your kids entertained until Fingerlings UNTAMED launches this May.
Check out Romper's new video series, Bearing The Motherload, where disagreeing parents from different sides of an issue sit down with a mediator and talk about how to support (and not judge) each other's parenting perspectives. New episodes air Mondays on Facebook.