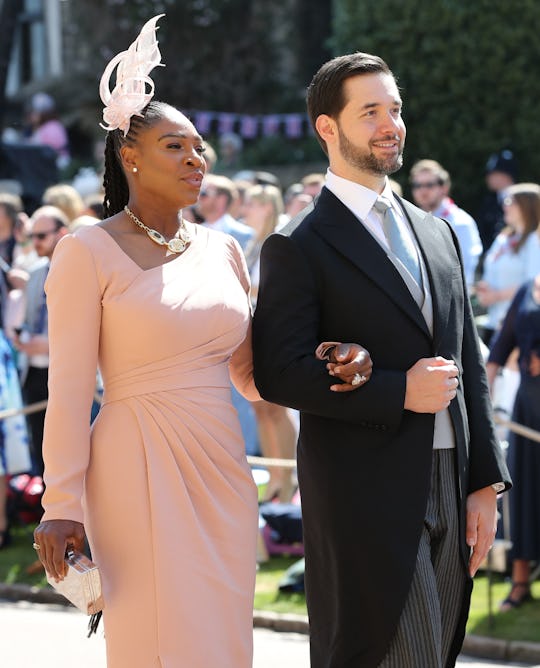 WPA Pool/Getty Images Entertainment/Getty Images
What Serena Williams' Husband Did Because "She Wanted Italian" Is #RelationshipGoals
Anyone who follows Serena Williams and her husband, Alexis Ohanian, on social media knows that they define the term "relationship goals." The couple, along with their 10-month-old daughter, Olympia, seem to be so happy, loving, invested, and supportive of each other in everything they do. And fans who have been following their most recent adventures on Instagram get it. But knowing the reason for Serena Williams and Alexis Ohanian's Italian getaway just makes it all so much better.
Williams and Ohanian are no strangers to Italy. Last year, the couple revealed to Vanity Fair that they first met in Rome, Italy in 2015 by chance. Williams was set to play her first match in the Italian Open, according to Vanity Fair, while Ohanian was set to speak at the Festival of Media Global conference. Although they told Vanity Fair that their first meeting wasn't necessarily love at first sight, once they met, the rest was history.
So, given the fact that the country of Italy is responsible for their entire adorable relationship, it makes sense that Ohanian and Williams still love traveling to Italy. But the reason behind their most recent vacation to Venice is absolutely perfect. In an Instagram post, shared to Ohanian's account on Saturday, Ohanian can be seen smiling at Williams as she drinks wine and they sit on a gondola. But this trip wasn't because of a business trip; in the caption, Ohanian revealed that their trip was taken because Williams got a certain craving for a certain kind of cuisine. "She wanted Italian for dinner, so...," Ohanian captioned the photo.
On the list of "grand romantic gestures," Ohanian's trip to Venice definitely deserves a top spot.
But "eating Italian food" wasn't the only reason that Williams and Ohanian took a trip to Venice. On Twitter, Ohanian also revealed that his wife had never been to the city, so naturally, he took her there on a whim. Of course.
Even people on Twitter couldn't believe that people like Ohanian exist, taking to the website to share their thoughts about Williams and Ohanian's trip.
And people on Instagram were just as in awe of the happy couple and this incredible romantic gesture. "Best. Husband. Ever." one person wrote. "Happy to see Serena so well loved. I don't even know her and I know she deserves it."
"Alexis, you win all of the husband point!" another added.
"Damn," one more perfectly stated. "Husband goals."
A grand romantic gesture like this isn't out of the ordinary for Ohanian. He is a vocal supporter of his wife, her career, and an advocate for women's issues (especially those that have had an impact on his wife) — which is a vocal way of showing his support and dedication for the tennis pro. But his physical actions count, too. For example, when Ohanian proposed to Williams in December 2016, he flew her out to Italy, according to Vanity Fair, and he proposed to her in the exact same location where they first met. Or the time in February where Ohanian commissioned four billboards with their daughter's face on it, welcoming Williams back to tennis for the first time since giving birth to their daughter, according to TIME.
"We both set a high bar for ourselves and for one another," Ohanian said of these gestures during an interview this past May, according to Essence.
No matter the gesture, it's clear that he is so devoted to Williams, and his actions and words prove that. But this most recent gesture seemingly just to satisfy Willams' craving for Italian food takes the cake.