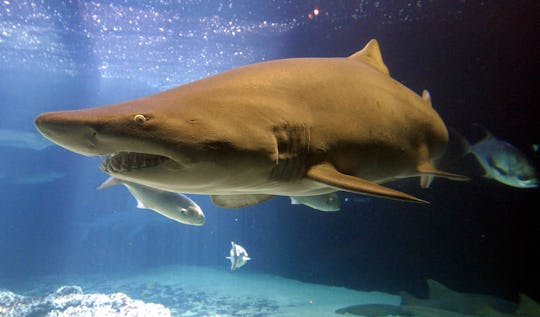 Mario Tama/Getty Images News/Getty Images
The 'Shark Tank' Team Will Be Fighting For A Cause On Shark Week
Summer is in full swing and that means just one thing — Shark Week. To celebrate its 30-year anniversary, Shark Week this year is bringing in a host of celebrity guests and fun crossovers. Personally, I'm most looking forward to the special featuring the entire cast of Shark Tank. The investment sharks will dive into the world of actual sharks in the special, teaming up with scientists and non-profits for shark conservation efforts. Putting aside the emphasis on profits and sales, the Shark Week and Shark Tank crossover proves that some things are really worth fighting for.
Rather than mulling over whether or not to invest their money into businesses for profit, on Shark Tank Meets Shark Week, the team of savvy sharks will be fighting for a good cause. Each shark, including Mark Cuban, Kevin "Mr. Wonderful" O'Leary, Barbara Corcoran, Daymond John, and Robert Herjavec, will be paired with a shark centric non-profit organization to help conserve the species. Once they complete their eye-opening journeys, they will pitch each other in hopes to land a $50,000 donation for their shark non-profit.
Despite being one of the fiercest predators of the sea, sharks are continuously facing threats to their existence everyday. According to Shark Savers, things like climate change and pollution are reducing the number and size of areas for breeding and feeding, along with degrading the ecosystems that provide protective spaces for shark pups to flourish. Pollutants, such as plastics and chemicals, are contaminating shark species around the globe, and without vigorous and proactive conservation efforts, they will continue to contribute to the declining shark population.
Sharks may be the most dangerous creatures in the ocean, but humans can still have a disastrous effect on their population. Whether through illegal fishing or accidental fishing, called bycatching, millions of sharks have been caught and killed by fisherman throughout the past few years. And because they don't reproduce in high quantities or very often, their population numbers have dwindled significantly. Another huge, entirely human-driven threat that sharks face today is finning, where fisherman catch and kill sharks to sell their fins for commercial purposes.
Unfortunately, one of the most intriguing and fascinating sharks in the world, the Hammerhead, is now officially an endangered species. Due to the combination of finning, bycatching and illegal fishing, the Hammerhead population is steadily declining, and without more rigorous conservation efforts, they may one day cease to exist at all. In fact, just last month, nearly 100 dead newborn Hammerhead sharks were found on a beach in Hawaii, reported Newsweek, most likely the result of illegal fishing or bycatching. But it's not just Hammerhead sharks at risk. Great White Sharks, Whale Sharks, and Manta Rays are all teetering on the edge of the endangered species list, with their species growing more vulnerable everyday.
With all the threats the shark population is facing, it's nice to see the Shark Tank team help raise awareness for the cause. Sure, it's a lot of fun to watch Shark Week for all of the danger and action, but it's also important to remember that sharks share this planet too. It will be really refreshing to see the Shark Tank sharks taking a break from their banter on profits and cash to emphasize the crucial importance of shark research and conservation. If these magnificent creatures cannot thrive in the oceans, and continue to remain a threatened species, future generations may not have the luxury of enjoying Shark Week the way they do now.
Shark Tank Meets Shark Week airs on Wednesday, July 25 at 9 p.m. ET on the Discovery Channel.