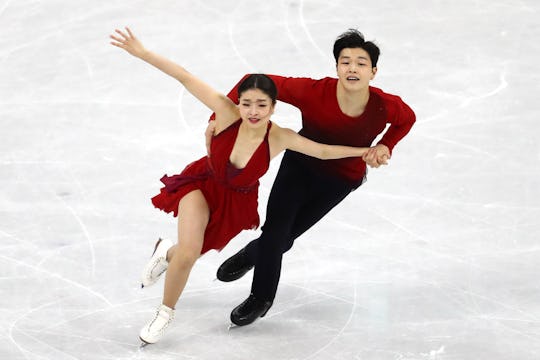 Dean Mouhtaropoulos/Getty Images Sport/Getty Images
The Shib Sibs Totally Dominated Sunday Night & The Internet Loves Them
If you haven't been watching the Winter Olympics this year, let me tell you two things. First, I totally understand if you just haven't had the time because it's a busy time of year. And second, no matter how you feel about figure skating, you should check out the Shib sibs. Yes, that's what they go by. Maia and Alex Shibutani are Michigan-born figure skaters representing the United States in the 2018 PyeongChang Winter Olympics, and they're totally winning everyone over.
So, during their first performance at the PyeonChang games in which they placed second, and earned the United States nine points for the group competition, it makes sense that people were all over wanting to know who they were and just where they came from. Well, the Shib Sibs, as they're so lovingly called, have actually been performing together for years, more than a decade, actually. So, their dominating performance Sunday night to Coldplay's "Paradise," at the third and final figure skating event for the Winter Games is even more celebrated by fans and people just now figuring out how impressive the duo is. I mean, it's already pretty fantastic that Maia and Alex are so close and that they're so talented and also totally humble.
In case you didn't know, the Shib Sibs made their debut performance at the 2014 Winter Olympics in Sochi, and placed ninth overall. And while it's pretty impressive to be ranked ninth in the world, the Shib Sibs just knew that they weren't done. Speaking to People about their return to the Olympic stage, 23-year-old Maia said, "We feel really good and excited heading into our second Olympic games." She continued, "We learned so much from our first experience in Sochi. It inspired us a lot, but since then our career has really taken off."
And clearly, perserverance and hard work has paid off for the siblings, whose performance Sunday night had so many online excited and nervous at the same time. After all, the Shib Sibs have the power to take the United States all the to the podium this year, and that's pretty exciting.
And honestly, even though the Shib Sibs couldn't cinch the gold medal (I'd say silver in their individual event and bronze medals they won as part of the team are still pretty damn impressive) people would still love them regardless. I mean, come on, y'all. In their interview with people, brother Alex said, "Maia and I have always had a really great relationship. I remember being really excited to have a younger sister because I think I knew that I would have a friend. And we've been friends ever since." Like how could your heart not just melt at that?
Of course, the fact that the Shib Sibs totally dominated Sunday night is still very respectable. Because while they may be young, 26-year-old Alex and 23-year-old Maia are still wise and talented. And honestly, their final performance on Sunday night had everyone rightfully freaking out.
Previously, the siblings had danced to "Mambo, cha-cha and Zumba" routines, according to People, but everyone was awaiting their dance Sunday night, which they had told the magazine would be to a Coldplay song, as a sort of shoutout to their championship performance in 2016 to the band's hit single, Fix You.
"That was at a moment in our career when we really needed to find ourselves," Alex told People. "It's nice to be back to Coldplay, but we're doing it in a completely different way."
And when they took the ice Sunday night, it was clear that the audience, both in South Korea, and at home here in the United States, were totally rooting for them.
Check out Romper's new video series, Romper's Doula Diaries:
Watch full episodes of Romper's Doula Diaries on Facebook Watch.