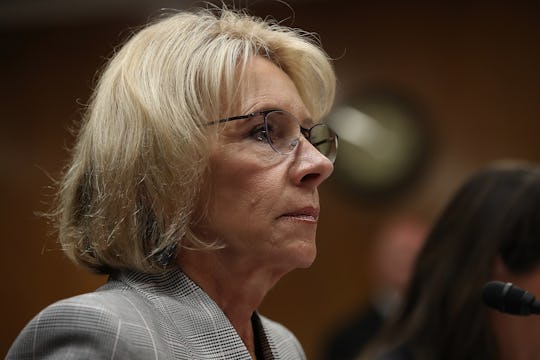 Win McNamee/Getty Images News/Getty Images
The Status Of H.R. 610, Betsy DeVos' Proposed Education Bill, Nearly 2 Years Later
In January 2017, before Betsy DeVos was even confirmed as U.S. Secretary of Education, a bill was introduced in the House of Representatives that threatened to basically abolish the public education system as we know it. It's been nearly two years, so people, but especially parents, might be wondering about the status of H.R. 610 right now. While the bill is still technically pending, and could advance at any time, I'm happy to report that the House has not moved on the bill as of yet.
But let's back up and talk about what H.R. 610 entails, because if it ever does pass, it could turn public education upside-down. The bill, sponsored by Iowa Rep. Steve King, would create block grants for vouchers, taking money away from public education to fund religious and private schools, which is DeVos' ultimate goal, according to Politico. Of course, not all of those vouchers would be spent on religious schools; they would also be allowed to pay for poorly-performing charter schools with no oversight, and if that doesn't concern you, just look at her previous endeavors: DeVos spent millions of dollars to upend the public school system in her home state of Michigan, which the Detroit Free Press now describes it as "abysmal," "deeply dysfunctional," "tragic," and "a laughingstock," among other things.
As if that weren't enough, H.R. 610 would also repeal the Elementary and Secondary Education Act of 1965 (or ESEA), according to the bill's text, which outlines how funds are distributed to schools, sets curriculum standards, and protects students from discrimination.
In addition to the Choices in Education Act of 2017, which entails all the previous legislation, the bill's text also contains Rep. King's own No Hungry Kids Act. That act would overturn the Healthy Hunger-Free Kids Act and amend the Richard B. Russell National School Lunch Act, the bill states, effectively trashing all nutritional standards in schools. King has been trying to get that passed for years — see his 2012 op-ed for The Hill. As an excerpt of the bill itself reads:
The bill repeals a specified rule that established certain nutrition standards for the national school lunch and breakfast programs. (In general, the rule requires schools to increase the availability of fruits, vegetables, whole grains, and low-fat or fat free milk in school meals; reduce the levels of sodium, saturated fat, and trans fat in school meals; and meet children's nutritional needs within their caloric requirements.)
H.R. 610 would wreak havoc on education for all U.S. schoolchildren, and disproportionately affect kids with disabilities and other students with special needs, like low-income children, English language learners, minorities, homeless kids, and LGBTQ students. Luckily, though, DeVos and King seem to be the only two people who support it.; according to Congress' website, the bill was introduced on Jan. 23, 2017, referred to the House Committee on Education and the Workforce the same day, and ignored ever since. That is, it's been ignored by Congress; parents and concerned citizens are still fighting mad and looking for assurance that H.R. 610 will never pass.
As the committee chair, it's up to North Carolina Rep. Virginia Foxx to put H.R. 610 on the calendar. Her decision will be interesting, as Foxx has experience in education; she's a former college instructor who holds a doctorate in education, according to her website, so she probably knows better than to ever let H.R. 610 see the light of day again. But it can't hurt to ask her about it.