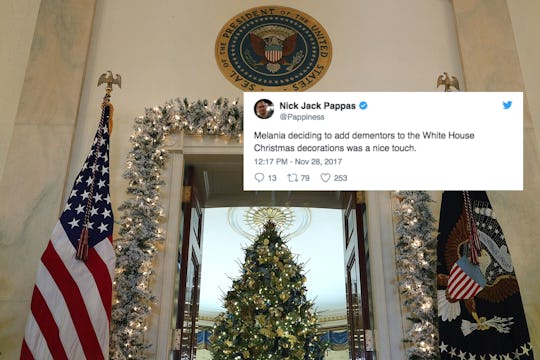 Alex Wong/Getty Images News/Getty Images
People Are Freaking Out Over These Creepy White House Christmas Decorations
Every year, per tradition, the White House is transformed into a taxpayer-funded winter wonderland. And on Monday, the Trump administration released a video of first lady Melania Trump putting her decorative skills to use to make that happen this year. But there's one particular photo of the White House Christmas decorations that have people freaking out — and questioning humanity, to be honest.
It all started Sunday night, when Stephanie Grisham, the first lady's White House director of communications, posted on Twitter a sneak peek of the holidays at the presidential residence, according to AOL. The photograph Grisham tweeted shows the hallway of one of the White House chambers lined with nearly two dozen bundles of tall white twigs that are bottom lit. The looming sheaf of branches lead to a decked out evergreen Christmas tree, back-lit by a strong yellow light, AOL reported.
On paper, the design concept doesn't seem as if it would look awful. But in execution, it's a horrifying scene. The bottom lighting has caused foreboding shadows to appear on the chamber's ceiling. These dark grey areas mimic ominous clouds waiting to burst as you're trying to escape the Headless Horseman. And I'm not the only one who sees it that way.
What's most interesting about Grisham's photo choice is what it's meant to represent, in part: An ode to past holiday celebrations on Capitol Hill. The theme for this year's White House decorations is "Time-Honored Traditions," according to TIME. In an official White House statement, Trump said of the thematic choice,
The President, Barron, and I are very excited for our first Christmas in the White House. As with many families across the country, holiday traditions are very important to us. I hope when visiting the People's House this year, visitors will get a sense of being home for the holidays.
The "sense of being home for the holidays" includes a Gold Star family tree decorated with "patriotic ribbon," a tribute to the 1961's "The Nutcracker Suite," President Franklin D. Roosevelt's 1866 edition of A Christmas Carol featured in the presidential library, and a family Christmas dinner table displaying President Ronald Reagan's china, according to the Trump administration. There is also an official White House Christmas tree decorated with glass ornaments inscribed with the each state and territory's seal, as well as a 300-pound gingerbread replica of the president residence's South facade that feature "Mrs. Trump's signature Christmas wreaths," the White House statement read. The color theme is red, green, and gold.
Of course, the first lady's decision to focus on "traditions" for her first holidays in the White House is not particularly surprising. After all, as the Washington Post pointed out, her husband, President Donald Trump, did pledge to end the so-called "War on Christmas" while he was running for office. Last year, Trump said as a candidate,
You go to stores, you don't see the word Christmas. It says 'happy holidays' all over. I say, 'Where's Christmas?' I tell my wife, 'Don't go to those stores.' . . . I want to see Christmas.
Consider his "mission" accomplished. The official Trump family holiday card reads "Merry Christmas and a Happy New Year," and the official holiday hashtag is #WHChristmas, according to The Washington Post. Sure, not everyone who lives in the United States is a Christian, practicing or otherwise. And sure, there are other non-Christian holidays that happen in December such as — oh, I don't know — Hanukkah. But none of those truths matter because Trump and his base "want to see Christmas," people-who-don't-celebrate-Christmas-but-pay-taxes-to-fund-the-White-House-decorations be damned.
Someone should tell the Trump family, though, that their version of Christmas looks like the highway to hell.