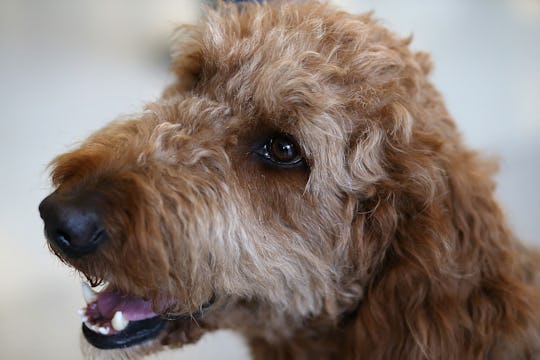 Justin Sullivan/Getty Images News/Getty Images
Therapy Dogs Can Help Kids Coping With Cancer, According To Science
There's honestly no limit to the uncomplicated kindness of a dog. Perhaps most especially, a trained therapy dog. While these special animals have been known to help all sorts of people who have suffered from trauma, it seems they might have a new way of connecting with the humans they love. According to a new study, therapy dogs can help kids coping with cancer.
The study, which was recently published in The Journal of Pediatric Oncology Nursing, found that therapy dogs were able to help young cancer patients deal with their anxiety. Therapy dogs are those which have been specially trained to provide affection and comfort to people who have suffered through a trauma, or are simply struggling with a rough time. And sadly, few things can be more difficult than a child trying to deal with a cancer diagnosis. This study, which was sponsored in part by American Humane and funded by the Human-Animal Bond Research Institute, is the first of its kind to look at the ways therapy dogs might be able to improve the lives of children with cancer. A total of 106 newly diagnosed patients were studied throughout the space of four months, from five pediatric oncology units in hospitals around the country. During the study period, 60 of the patients were paired with 26 therapy dogs during their treatment. The children had their blood pressure and pulse taken before each visit with the therapy dog, which generally lasted about 15 minutes, then again after the pet left the room.
The children in the study were being treated in Portland, Oregon, Boston, Massachusetts, Nashville, Tennessee, Sacramento, California, and Tampa, Florida. Essentially all corners of the continental United States, and yet the results proved to be the same. There was a major reduction in each child's anxiety level after spending time with the therapy dog. And Robin Ganzert, President and CEO of American Humane, explained to CNN why this connection between child and therapy dog as so important:
Dogs in general are man's best friend, and there is a lot of feel-good evidence that they can help with cancer treatment. But there's not been a randomized clinical trial. So we created the first and the largest clinical trial that's ever been done to show the benefits of animal assisted interaction on kids with cancer.
Not surprisingly, the therapy dogs were able to help more than just the children; they were found to be incredibly comforting for the parents as well. Mary Jo Gilmer, one of the study's lead authors and a professor of nursing from Vanderbilt University, explained to CNN:
In the group that had the intervention with the therapy dogs, we found parents showed decreased stress in their parenting role over time. That was striking to us, because stress that parents feel usually is reflected onto the children. If Mom is stressed and Dad is stressed, a child usually feels it.
As for the affect of these visits on the pets themselves? The dogs showed no elevated signs of stress after being allowed to visit the hospital (once it was made clear that there would be no safety issues) and spend time with the anxious children. The 26 therapy dogs had their saliva tested and their handler was questioned about their stress levels before and after these visits, which were also videotaped. In other words; no animal was harmed in the study.
Instead, these animals brought significant comfort and relief to these anxious children and their parents. They made their way through the hospitals, by all accounts, without a single incident. Which will hopefully open the door for more therapy dogs to help children going through cancer treatment.
They deserve any comfort they can find.