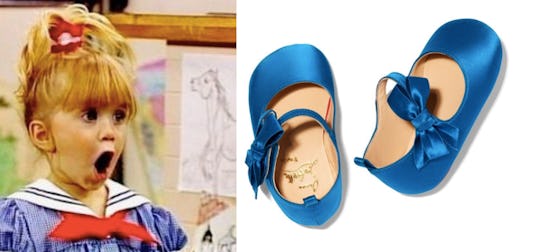 Warner Bros. Television/ Christian Louboutin
These Baby Louboutins Will Set You Back Hundreds, But They're So Adorable
Did your son or daughter emerge from the womb wailing for designer shoes? Did that little prince or princess use their first words to demand only the finest footwear to fling from their stroller? Did I hear a "yes" all the way in the back? Well then, you're in luck, because these new Louboutin baby shoes set to hit Gwyneth Paltrow's lifestyle site, Goop, next month are actually, seriously, really real and absolutely not a joke. So, all you parents of tiny divas with expensive taste, get ready to flash some serious plastic outfitting your Hollywood socialites in the making with the tiny shoes better suited for a museum than the sandbox.
That's because, as you'd expect, the results of this collaboration between Paltrow and the legendary French shoe designer Christian Louboutin — who has until now focused on swathing adult feet in elegant $800 pumps — absolutely won't come cheap. The high-end take on the beloved Mary Jane will boast the brand's signature red sole, a handmade bow, and a $250 price tag, according to Glamour. And if you really want to splurge for your fashion-obsessed baby who may or may not have realized by now that they even have feet, you can choose from more than one of the available colors and styles: There's blue and pink, according to Footwear News, as well as a gold Nappa Laminato version.
Listen, we all know how much babies love to wear shoes. Even if you've just mastered holding up your own head and you can't walk quite yet, the perfect pair of Louboutins are essential to pulling together any miniature outfit — especially if you're a tyke plotting early to ingratiate yourself with the tots of the looming Kardashian-Jenner baby boom. What better way to communicate #SquadGoals than a cooing cadre of toddlers decked out in delicate little shoes, am I right?
Still, even for babies who refuse to let anything but the most exquisitely crafted shoes to grace their wiggling toes, patience is a virtue. An so, everyone clamoring to get a pair — or two, or three — of these shoes, which are very cute, for their baby is going to have to hold off until they launch on Nov. 16 through Goop.com Then, after babies all around the world have tried on their so-called "Louibaby" Mary Janes from the limited edition time capsule collection, it will be time to get the party started. Or maybe these little ones prefer a gala. Or a soirée. Rockin' Louboutins makes a person fancy, after all.
While the Loubibaby phenomenon marks the designer's first foray into the realm of baby shoes, the Louboutin-Paltrow collab includes four shoe designs for women, too. In a statement, Paltrow lauded the whole collection as "quintessential" fall classics and "true investment pieces" that women and their daughters and nieces can wear for year, according to InStyle.
I don't know about you, but I'm having a hard time classifying a pair of baby shoes subject to a tiny person's normal path of destruction and love of jumping into puddles as investment pieces, per se. If a baby or a toddler doesn't manage to destroy to lose the shoes first, they'll certainly grow out of them much too quickly for the buyer to get any real ROI — with the exception of some seriously adorable photos for Instagram, of course.
To all you parents gearing up to go in for a pair $250 shoes for a baby, I have on piece of advice: Take lots of pictures right away, because memories of your tot wearing a pair of pristine Louboutins could be all that's left very, very soon.
Watch Romper's new video series, Romper's Doula Diaries:
Check out the entire Romper's Doula Diaries series and other videos on Facebook and the Bustle app across Apple TV, Roku, and Amazon Fire TV.