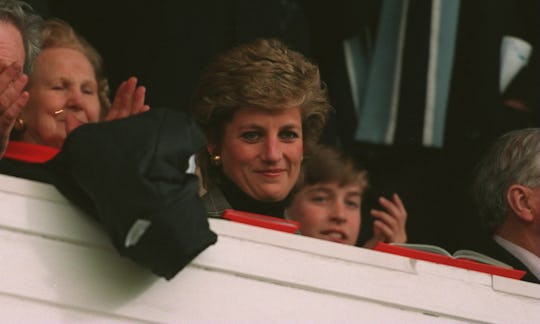 Clive Mason/Getty Images Sport/Getty Images
These Photos Of Princess Diana With Her Sons Will Totally & Completely Warm Your Heart
Oftentimes throughout history, there are moments when the whole world comes together to celebrate, mourn, or watch in awe. The Olympics, 9/11, and the birth of a new royal baby are all great examples of these moments. But perhaps one of the most recognizable moments in history was the shocking death of Princess Diana in August 1997. Although it's been over 20 years since the tragic accident, the Princess of Wales is still fondly remembered and her children continue to carry on her legacy. And that's especially evident today — Sunday, July 1 — on what would've been her 57th birthday. So, if you're feeling a little nostalgic, looking back at these photos of Princess Diana with Prince Harry and Prince William when they were kids will do the trick, because they truly had a remarkable bond.
On Princess Diana's birthday, not only the rest of the world is remembering the legacy she left behind through photos, it's probably safe to say that both Prince William and Prince Harry are flipping through old photo albums filled with all the memories they have with their mom. From playing the piano, having fun at a waterpark, and adventuring off to school, it's clear that the young princes have beautiful memories with their mom.
So, in honor of Princess Diana and the loving mother she was, these 11 photos of her with her little royals serve as an important reminder that a mother's love never dies.
Because Prince William and Prince Harry don't have their own social media accounts, they don't post any childhood photos with Princess Diana of their own with insightful captions. But they have spoken about their late mother on a number of occasions, alway so lovingly.
For example, Prince William once discussed the legacy his mother left behind, and how her passion for charity work really empowered him later in life. According to Southern Living, Prince William said:
I never realized quite how much of an impact she had. I applaud her for all her dedication and drive, and I think the infectious enthusiasm and all the energy she had really rubbed off on me for causes such as [AIDS research in Africa].
It's more than obvious that Prince William — a father of three children: 4-year-old Prince George, 3-year-old Princess Charlotte, and baby Prince Louis — has so much respect for his mom and her kind, nurturing spirit.
Prince Harry also had some sweet words to say about his mother. According to Good Housekeeping, he once called her "the best mum in the world" and even said, "She was one of the naughtiest parents… She smothered us with love, that's for sure."
There's really no doubting how much Prince William and Prince Harry adored their mom — then, now, and forever.
While neither Prince William nor Prince Harry got to introduce their wives — Kate Middleton and Meghan Markle, respectively — to their mom, they likely carry with them the great love advice that Princess Diana passed on to them. According to TODAY, Princess Diana recalled giving Prince William some great advice on the romance department. "I went to the school and put it to William, particularly, that if you find someone you love in life, you must hang onto it and look after it," she said back in 1995, according to TODAY. "And if you were lucky enough to find someone who loves you, then one must protect it."
Of course, Prince William and Prince Harry undoubtedly miss their mom every day, but they also recognize how lucky they are that they got to spend the years they did with her. Even though Prince William was 15 at the time of her passing, and Prince Harry was only 12, through these photos, it looks like they both have a bounty of beautiful memories with their mom.