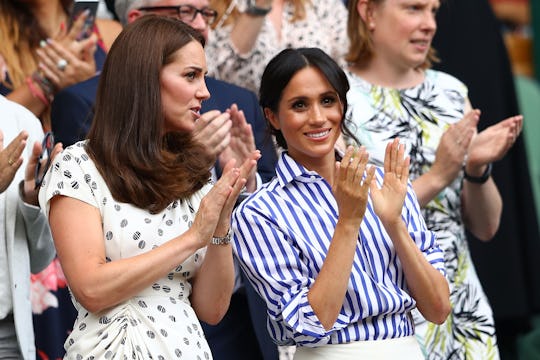 Michael Steele/Getty Images Sport/Getty Images
Meghan Markle & Kate Middleton Are Obviously Best Friends At Wimbledon
If there's one royal couple I've been rooting for more than anyone else, it's the dream pairing of the Duchess of Cambridge and the Duchess of Sussex. After reading endless tweets and articles comparing them to each other, I've just been waiting for that big A-ha moment, you know? When the two sisters-in-law emerge as best friends, or at the very least, on their way to being best friends. And I think it's finally happened, guys. These pictures of Kate Middleton and Meghan Markle at Wimbledon together prove dreams do come true. If your dreams are about two duchesses hanging out, that is.
The two women attended Wimbledon together sans their princely husbands William and Harry on Saturday, and it was actually kind of a big deal. It marked the first solo outing for the two women, and of course they chose the most perfect event to attend for the occasion; they rolled on into the All England Lawn Tennis and Racquet Club to watch the Ladies' Singles Final at Wimbledon. Because they're both ladies heading out on their own, get it? Both royals had a pretty packed week, what with Kate Middleton's youngest child, Prince Louis, getting baptized, attending the Royal Air Force ceremony, and Markle nipping over to Ireland for an official tour with new husband Prince Harry. But did that stop the two women from having a good time?
Give me a break, I bet they were waiting for this big moment too.
So I don't want to be this girl but can we please take a moment to appreciate their outfits? The Duchess of Cambridge wore a gorgeous white dress with polka dots while the Duchess of Sussex wore a blue and white striped Ralph Lauren shirt with white wide-legged pants. They looked like they were two modern ladies heading to Wimbledon in the Roaring 20's or something, I loved it.
Please fall in love with them immediately.
The two women took in the finals looking cool and relaxed, and they even seemed to share a few laughs. Actually, I am seeing a lot of pictures of Meghan Markle saying something quietly and Kate Middleton laughing, which naturally has me assuming that she is pretty hilarious. And that her new best friend Kate Middleton totally gets all of her great jokes. This is important in any good friendship.
To be fair, it looks like Kate Middleton might have had something funny to say herself. Get a load of Markle's face. Plus Kate Middleton is giving her that look like, I'm so glad Harry married a girl I like hanging out with, let's be friends forever.
Even when the two women weren't yucking it up, they seemed to really enjoy just hanging out together. They spent lots of time deep in conversation or just chatting casually while they watched the women play tennis.
It wasn't all royal hijinx for the two duchesses, of course; they were at Wimbledon on official duty. After British tennis star Angelique Kerber beat Serena Williams (a long-time friend of Meghan Markle) to win the Ladies' Singles Championship, Markle and Middleton greeted Kerber to offer their congratulations.
While the Duchess of Sussex was quick to congratulate Kerber on her first-ever title, she got visibly teary-eyed when her friend Williams offered an emotional concession speech as the runner-up. Williams, who just welcomed daughter Alexis Olympia Ohanian last September, said she had tried "really hard" and that she was dedicating her efforts "for all the moms out there."
Clearly Meghan Markle is a friend you want in your corner. And I just feel really happy that Kate Middleton now has such a fun girlfriend to hang out with at Buckingham Palace.
I mean, the Queen is great and all. But the age difference is probably a bit prohibitive.