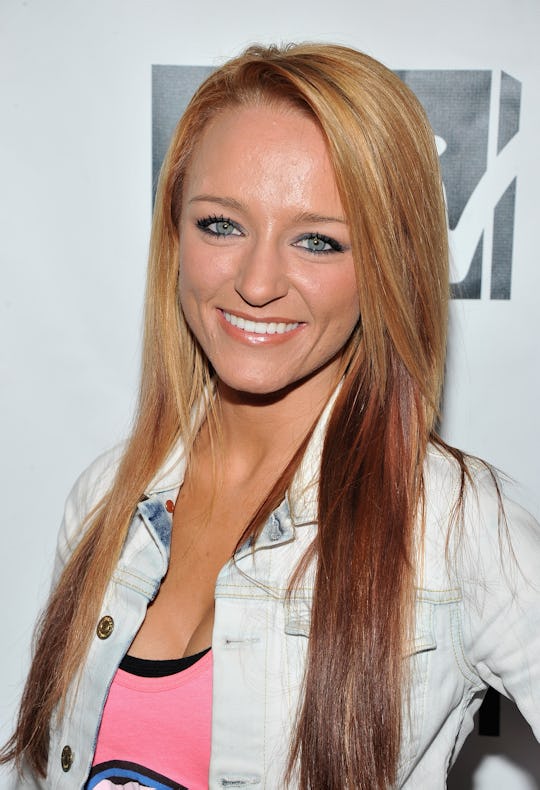 Theo Wargo/Getty Images Entertainment/Getty Images
Pregnancy Rumors About 'Teen Mom OG's Maci Bookout Are Really Getting Out Of Control
Teen Mom OG star Maci Bookout is going through a lot these days, to say the least. From Bookout's ongoing legal drama with her ex-boyfriend, Ryan Edwards, to complicated family dynamics with her son's paternal grandparents, she can't seem to catch a break. And to top it all off, Maci Bookout continues to face pregnancy rumors, despite the fact there's no legitimate basis for the rampant speculation. Sigh. Bookout did not immediately respond to Romper's request for comment regarding the rumors.
Season 7 of Teen Mom OG was a tough one for Bookout. As People reported, not only did Bookout speak out on Edwards' drug addiction and its effect on their 9-year-old son, Bentley Edwards, but she also opened up about suffering a miscarriage. Bookout and her husband, Tyler McKinney, lost a baby girl sometime in 2017. "I had a miscarriage," Bookout confessed to her Teen Mom OG producer in the January 2018 episode, according to People. "Her name's Dandy, Dandelion."
Still, as much as the loss hurt the couple, they agreed to move forward with their family planning. "If you seriously want to have another baby, then I'll do it," Bookout told McKinney during a romantic outing according to In Touch Weekly. "But I still want to adopt too. And if that's really what you want naturally, I want to do it now." If Bookout does have another baby, the little one will join Bentley, Jade, 3, and Maverick, 2.
Ever since Bookout confirmed that she's open to having more kids, the pregnancy rumors have been non-stop. The speculation reached a fever pitch in May when people spotted Bookout sporting a supposed "baby bump" in a Mother's Day video. "Love the baby bump!" one person commented on the post on Instagram. "Am I the only one that noticed a bump?" someone else asked.
Bookout didn't verify the gossip, however, and there's no confirmation that she's actually pregnant. Unfortunately, Bookout's silence on the issue didn't stop fans from speculating about her alleged "bump" in new photos with Teen Mom 2 star Kailyn Lowry. Lowry met up with Bookout in her native city of Chattanooga, Tennessee, on Thursday to record an episode of Lowry's podcast, Coffee Convos. Lowry confirmed the exciting news in a tweet from Monday. But unfortunately, people seemed more interested in Bookout's midsection than they did about the upcoming episode. Apparently, people think they can see a growing bump under Bookout's blue checkered shirt.
"Sooooo Pregnant!!!" someone wrote on Reddit. "She definitely looks pregnant, from the way the shirt hangs in the front."
"A few of us have thought so since her mothers day video," a fan commented. "I really think so."
"She def looks pregnant," another fan agreed.
Others weren't so quick to jump on the Bookout-is-pregnant train.
"Let's not speculate on whether or not someone is pregnant until they say it themselves, especially when she had a miscarriage before," one especially thoughtful commenter penned.
"I'm thinking we should stop speculating on if she is or she isn't," another person added.
The hesitant commenters have a good point here. If Bookout is pregnant, she might be waiting to announce it given her past miscarriage. It's completely normal and common for parents to keep a pregnancy private following a loss. Not to mention, it's never OK to ask a person if they're pregnant. If someone wants to share pregnancy news, they will.
Lastly, there has to be a point when fans ease up on the speculation. This is especially true for Bookout because she's constantly the subject of pregnancy rumors. In fact, earlier this week fans got the rumor mill churning when Bookout took to Instagram Stories with Maverick. Some people mentioned that Bookout had "pregnancy face," whatever that means. When will fans just let her live?
Although most of these curious commenters probably don't mean any harm, it's probably best for people to step back from the speculation.