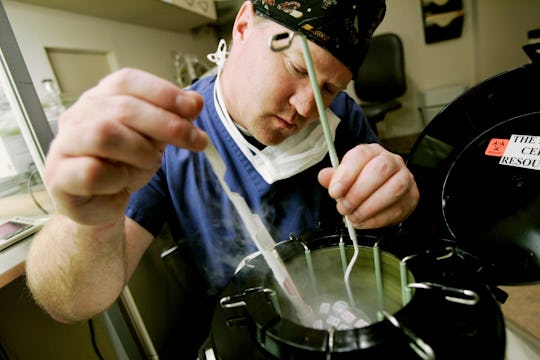 Sandy Huffaker/Getty Images News/Getty Images
This Company Covering IVF For Its Employees Should Be The Norm, Not The Exception
For so many couples struggling with infertility, their hopes of one day becoming parents are for halted due to financial reasons. Because although the cost of having a baby is high for parents who are able to conceive without medical intervention, the cost of in vitro fertilization (IVF) is even higher. Couples are forced to come up with thousands of dollars for IVF for just a chance at becoming pregnant. And since the chance of needing multiple rounds is relatively high, couples could wind up spending tens of thousands of dollars when it's all said and done — with or without a baby. However, one employer benefit can be a game-changer when it comes to the financial burden of infertility. In fact, this company covering IVF for its employees should be the norm, not the exception.
As People reported, Tosha and Nick Pratt had been trying to conceive for more than 14 years without success. Since they couldn't afford the cost of IVF, they wondered if they'd ever become parents — until everything suddenly changed in November, 2016. Pratt — who works as an implementation consultant at Ultimate Software in Dawsonville, Georgia — opened a work email announcing that her employer had decided to cover IVF treatments for workers struggling with infertility. "I sat there and cried tears of joy," Pratt told People. "This was finally our channel to have the family we'd always wanted. It was the best early Christmas present ever." Tosha and Nick went on to have a successful round of IVF, and they welcomed a baby girl to their family in March, 2018. "After 14 years and one miscarriage nine years ago, we are so happy and grateful," Pratt told the publication. "Without IVF coverage, who knows if we would have been able to do it on our own."
IVF coverage sounds like a dream, right? The cool part is Ultimate Software isn't the only company to offer what's know as fertility benefits. Spotify, for example, offers unlimited fertility benefits for its employees, Business Insider reported. (Although employees first have to show they're eligible for fertility treatment.) Other companies that pay for IVF for its employees include Pinterest, Facebook, Bank of America, and Chanel. Heck, even Starbucks offers fertility benefits to 85-percent of its employees, according to FertilityIQ. "While the $15,000 IVF benefit will not top any of our rankings, it's equivalent to that offered by banks like Morgan Stanley and probably represents a crucial bonus to baristas and store managers trying to conceive," FertilityIQ wrote in a report.
The case for employers offering fertility benefits is made even stronger by the fact that infertility affects one in eight people in the U.S. — which, for the record, is more people than are affected by breast cancer, diabetes, or Alzheimer's disease, according to FertilityIQ. And considering the average cost of IVF in the U.S. is a whopping $23,474 per cycle, I'm guessing a fair amount of people struggling with infertility don't have $20 grand just lying around to take a chance on IVF. (Of course the actual cost for a specific individual all depends in where they live and what services that are being done.) But still!
My best friend and her husband have been married for nearly eight years — and have been struggling to conceive for just as long. Although they have considered their options when it comes to having biological children of their own, the devastating reality is they just can't afford IVF. And they're certainly not alone. If more companies offered fertility benefits, can you imagine how many lives would be changed? Suddenly, taking action toward biological parenthood would be a feasible option. And in my opinion, anyone who dreams of becoming a parent at least deserves that chance.