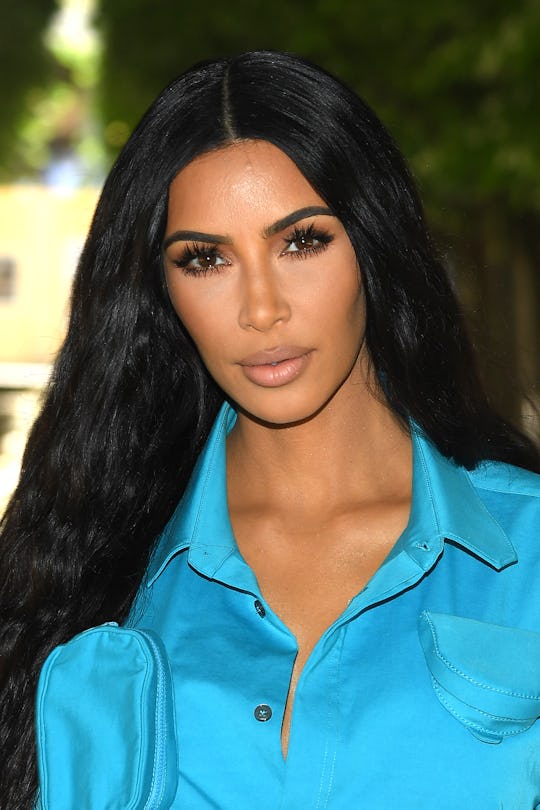 Pascal Le Segretain/Getty Images Entertainment/Getty Images
The Sister Kim K. Turns To For Parenting Advice Will Surprise You
By the third child, you may expect a mom to have it all figured out. But even the most seasoned mother can use a tip or two now and then. Celeb moms are no different. With four moms to young children in the family, the Kardashian-Jenner women have quite the support system. Out of all of her options, here's who Kim Kardashian goes to for parenting advice — the answer may surprise you.
Kim has three children with husband, Kanye West: four-year-old North, two-year-old Saint, and six-month-old Chicago. In a recent interview with E! News, she opened up about who she turns to when she is looking for insight into certain aspects of parenting. "Lately, it's been Kylie. Kylie is up on all the new gadgets and the new baby stuff," she told Sibley Scoles of E! News at the KKW Pop-Up at Westfield Century City.
Kylie isn't the only one who helps Kim out, though. As she went on to say, "Khloe and I probably have the most similar parenting style and I will usually go to one of my best friends Larsa Pippen because she has four kids for mom advice." It sounds like she has her pick of advisers.
While sister Kourtney also has three children — eight-year-old Mason Dash Disick, five-year-old Penelope Scotland Disick, and three-year-old Reign Aston Disick — she and Kim don't always land on the same side of parenting debates, according to Elle:
I think we're even closer now because Kourtney and I, even if we don't disagree on some parenting tips, we'll discuss them thoroughly and we respect each other's rules, but we pick up the slack for each other too. I know that if Kourtney's out of town, then the kids will sleep at my house and we'll plan these fun things where the kids always feel loved. We're always helping each other out.
Along with advice, the sisters' shared motherhood experiences have also strengthened their bond. Kim told E! that the babies afford them opportunities to spend time together:
I definitely feel like we are more connected now especially that Khloé's back and we're hanging out with all the babies. All the kids want to hang out. It's just a whole different experience now. It's so much fun.
My two sisters and I were lucky enough to all be pregnant at the same time, and the opportunity to share experiences and advice made our journeys to motherhood so much more exciting. The Kardashian-Jenner sisters, too, enjoyed the perks of shared experiences. In an interview with Entertainment Tonight, Kim explained that she was often a voice of reason to Khloé during her pregnancy. "Khloé and I have a really good thing going on right now," she said. "I'm like the real one with her [about] what goes down and how it's going to go down."
As beautiful as pregnancy and parenthood can be, it is also scary. Kim also told ET that Khloé was a bit "freaked out" by the unknown. Fortunately, she wasn't completely in the blind:
It'll be fine. She knows. She's seen all of us go through it. She's prepared, but I feel her and I are on a really good communication about everything. I know when to push it and when to... right now isn't a time to freak her out. The closer it gets, you can't freak someone out.
Once baby True Thompson arrived, Khloé aimed to do things her own way as a mother. But as she wrote on her website, according to People, that doesn't mean that she dismissed her sisters entirely:
Sure, we disagree on some of our parenting skills, but ultimately I look up to them so much as mothers. I can't say exactly what advice or skills I'll be taking from them, but I'm going to remain awe-inspired by how they can handle it all. I hope that comes easily for me.
She went on to write that she has "already learned so much" from her sisters, saying:
Even though I'm not big on taking advice — I don't believe there's only one-way-or-the-highway and we all have to adapt into our own routines — it's so comforting to know that I have sisters whom I can ask about anything that may come up.
As the many Kardashian-Jenner cousins continue to grow and develop, I have no doubt that their moms will turn to one another to share their struggles and insights. And both mamas and babies will be better off for it!