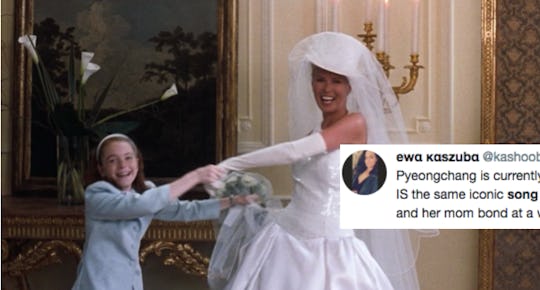 Walt Disney Productions
This Song From 'The Parent Trap' Played During The Opening Ceremony, & It Was The Perfect Finale
The Olympic opening ceremony in PyeongChang, South Korea was a blast to watch not just because of the magical realism and the incredible animation, but also because they chose to play all kinds of everyone's favorite music, including some classics you may not have heard in a while. This song from The Parent Trap played during the opening ceremony and it was the perfect way to end the show.
The opening ceremony had the theme "Peace in Motion," and followed a group of five adorable children on a beautiful winter fairytale through Korea's past and into its future. It featured traditional Korean music and dance as well as some modern jams that apparently never stop being incredibly fun to bop around to. The show included a performance of John Lennon's classic "Imagine," while during the marches K-Pop classics like BTS's "DNA" and the inimitable "Gangnam Style" played. To be honest, it was all great. Near the end, the show played some other old jams, one of which may have given you the sudden urge to join your estranged bridal designer mom on a wedding dress fashion shoot in London while wearing a top hat. No? Is that just me? Well if the song sounded familiar it was from The Parent Trap.
The song is called "Never Let You Go" by the band Jakaranda. With its synth beats, upbeat melody, and feel-good lyrics, I gotta say it seems like a really apt song to close out the opening ceremony in PyeongChang with. The song was a one-hit wonder in 1998 when the classic movie starring a young pre-Mean Girls Lindsay Lohan came out. Unfortunately, Jakaranda didn't do much after this one song, and apparently everyone remembers it mostly for that one scene in The Parent Trap. And now for the Olympics.
If you're having trouble remembering the exact time in which it appears in the film, it happens when Hallie, the American twin, is in London pretending to be Annie, the British twin, in order to hang out with the mother she's never met. Hallie's mom takes her to work with her, where she is a designer of bridal fashion and has to go on a fashion shoot. But the fashion shoot turns out to be lots of fun and Hallie gets to try on hats and get her picture taken and she says, "My mom is so cool." Remind me to watch this movie again later.
But this was hardly the only classic bop played at the Olympic opening ceremony. Obviously, because the host country is South Korea, a lot of the music was Korean. But the choices spanned from soft traditional music to the electronic, clubby style of K-pop that has been slowly but surely taking over the world over the past decade or so. People seemed mostly excited to hear "Gangnam Style" which happened to be the song playing when the American athletes marched out onto the field. A few of them even did the famous dance that everyone was doing years ago.
But even more exciting was hearing BTS's "DNA" a soon-to-be classic pop jam. BTS is like the new One Direction or *Nsync, but with better dance moves and more colorful hair. People, particularly young women, are absolutely obsessed with them. And because the band is South Korean, everyone was expecting the group to show up in one way or another.
But as for me, I'll probably still be listening to "Never Let You Go" in my head for the rest of the day (year). Wish me luck.
Check out Romper's new video series, Romper's Doula Diaries:
Watch full episodes of Romper's Doula Diaries on Facebook Watch.