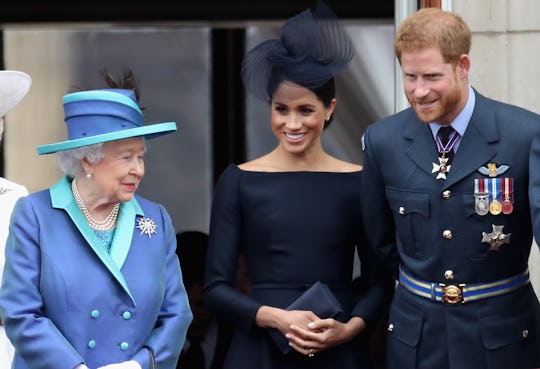 Chris Jackson/Getty Images Entertainment/Getty Images
This Royal Family Rule Says *No One* Can Go To Bed Before The Queen
Being part of the British royal family certainly has its perks, and let's be honest, Meghan Markle's Windsor Castle wedding to Prince Harry earlier this year was pretty much a straight-up fairy tale. But that doesn't mean there aren't drawbacks, and, honestly, some of them are quite strange. Now that she's the Duchess of Sussex, Meghan Markle is reportedly no longer allowed to eat garlic or shellfish, and has seemingly had to develop a sudden penchant for wearing nude pantyhose and sitting with legs slanted (never crossed!) at all times. But this surprising royal etiquette rule says the Queen should be the first one to go to bed — and the unfortunate news for the rest of the royal family is that the 92-year-old monarch can actually stay up quite late.
According to The Insider, Sir William Heseltine, one of the Queen's former private secretaries, once revealed that it is considered a big no-no for anyone, even her husband, Philip, the Duke of Edinburgh, to retire for the night before she does — which, if you think about it, is actually a pretty boss move. And it's not entirely surprising either: according to Hello!, anyone dining with the Queen is expected to stop eating when she does (fingers crossed that she's hungry), and those lower down in royal rank must wait for their higher-ups to enter a room before they do, according to The Cut. This orderly protocol seems like a pretty big deal among the royals, but if you've married into the family like Meghan, or Catherine, the Duchess of Cambridge, it may also take some getting used to, especially if you like to go to bed early. Because according to Harper's Bazaar, the Queen reportedly goes to bed around midnight.
Of course, since Prince Harry and Meghan, along with the other senior royals, don't actually live with the Queen at Buckingham Palace, the royal bedtime rule would seemingly only apply during official royal dinners, and other formal court occasions, such as when the family gathers for Christmas at Sandringham (and for his sake, let's just assume she gives 97-year-old Prince Philip a pass on that rule now the rest of the time). But it does still seem like the Queen's relatives might want to up their coffee intake for these formal family events — particularly Prince William and Catherine, who probably have at least one of their young children waking them up at some point in the night.
If they've been having a tough time though, the duke and duchess certainly aren't copping to it. And given that Catherine has, on multiple occasions, posed flawlessly in front of cameras only hours after giving birth, pretty much proving that she's superhuman, that's also not particularly surprising. But in an interview with The Telegraph in 2015, Heseltine said that, there was one person who did struggle quite a bit with the unusual rule: Prince William's late mother, Princess Diana.
Heseltine, who worked for the royal family for 30 years before returning to his native Australia in 1990, told The Telegraph that "the long royal evenings were agony" for the princess, and that despite the expectation that she'd stick around for around an hour of sitting room small talk after dinner, she'd actually "excuse herself and go to bed" — which he said "was thought to be rather bad form."
But as strange or inconvenient as that rule — and other seemingly arbitrary royal etiquette expectations — may be, having to stay up late to avoid offending the Queen does still seem like a pretty small price to pay to enjoy the perks of royal life. But if the Duke and Duchess of Sussex plan on having children? They might just want to ensure they have a nanny or two on-hand when they're expected to pull long nights at the palace with the rest of the family.