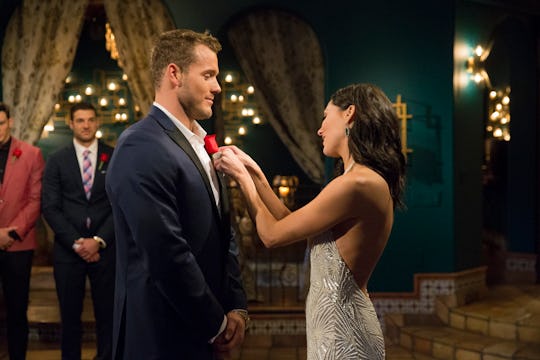 Paul Hebert/ABC
Twitter Is Shocked After Tia's Appearance On 'The Bachelorette'
One of the biggest controversies this season of The Bachelorette is the fact that Colton dated Becca's fellow Bachelor contestant, Tia, before the show. She told Becca that she's no longer interested — but during Monday's episode, that changed. Tia told Becca how she feels on 'The Bachelorette' and fans on Twitter couldn't believe it.
On Colton's hometown date, I knew something was up when his family mentioned Tia. Colton's dad, in particular, thought he and Becca were going a little fast, and mentioned that while Colton was Tia, Becca was still engaged to Arie. This kind of familial discussion makes sense on The Bachelorette hometown dates; parents are generally skeptical of the process and they should be, it's pretty bizarre. But in this case, mentioning Tia was a little fishy.
Colton himself didn't mention her, but she did come up after the hometown was over. Prior to the rose ceremony, Becca brought her friends from her Bachelor season — Bekah, Kendall, Caroline, Seinne, and of course Tia — to have a talk and possibly help her make her decision. When she mentioned Colton's hometown date, Tia said she needed to talk to Becca alone.
"I do feel like I still have feelings," Tia told Becca. When she appeared on The Bachelorette's spa date and Becca confronted Tia about Colton, Tia said basically the opposite: that they spent a weekend together, but it was over. When Tia revealed that wasn't true, Bachelor Nation on Twitter lost it:
"When I think about Colton being at this point it makes me sick to my stomach," Tia told Becca. She said she doesn't want to feel this way — she wants to be happy for Becca — but she couldn't hear her talk about Colton without saying something. Becca admitted that when she first found out about those two, she was ready to send Colton home; it was the fact that Colton said he was here for her and that Tia said she was over it that made her keep Colton.
Becca was, rightfully, upset at this. She said she wish she would've known sooner. Tia told her, "I don't like realizing I care for him but it's there" and that she "just wanted to be honest." Seeing as Becca had this meeting right before a rose ceremony, it may have swayed her decision for who to send home post-hometowns. She ended up sending Colton home.
Colton had a truly interesting run on The Bachelorette. Not only did he have a pre-existing relationship with Tia, but he told Becca that he was a virgin during their one-on-one date in the Bahamas. While Becca was surprised, she thankfully wasn't judgmental and didn't send him home for that. Colton did take his elimination as a blow, though, especially after hometown dates when they went to a children's hospital together and met his family. "I wanted to not feel broken again," Colton said.
"I know it feels right, but it doesn't make watching him walk away any better," Becca said in voice-over as Colton was sent away in a limo. Now that Becca's down to her final few, the decisions get harder and harder with each passing week. Colton, however, was shocked at being eliminated and didn't envision the rose ceremony going that way. In the end, though, Becca can only get engaged to one man — so 27 men will have their hearts broken.
I wouldn't cry too hard for Colton, though. Seeing as Tia will be on Bachelor in Paradise, I wouldn't be surprised that Colton joins her. Even if Becca didn't fall for him, maybe Tia's feelings for Colton will remain strong.