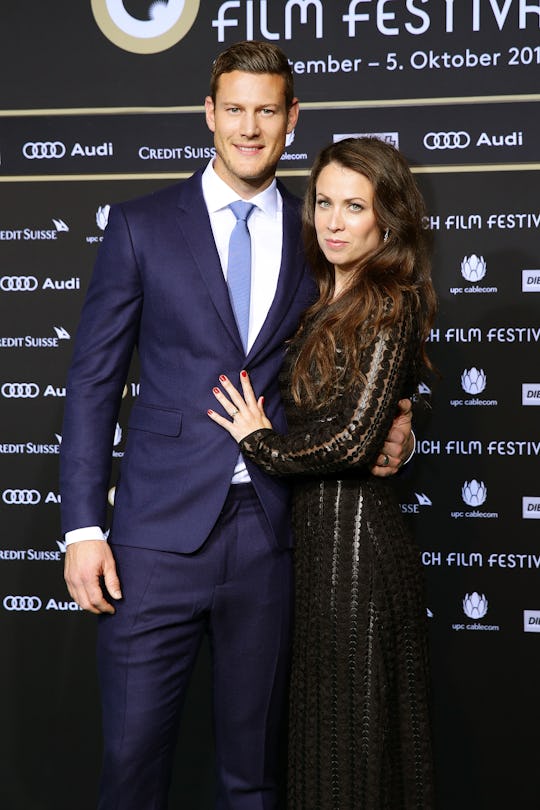 Vittorio Zunino Celotto/Getty Images Entertainment/Getty Images
Tom Hopper Has A New Baby Girl & The Photos Are *So* Sweet
Game of Thrones fans, congratulations are in order. Dickon Tarly, AKA Tom Hopper, and wife Laura welcomed a baby girl over the weekend. Hopper posted to Instagram to share the news, and normalized two special parts of parenting in the process.
The first of Hopper's posts is a birth announcement and a shoutout to his "amazing" wife all rolled into one adorable photo. In the shot, Hopper is cuddled up in bed with the whole family — he sits with his arm around 3-year-old son Freddie Douglas while Laura breastfeeds the newest addition to the family: Truly Rose Harper. "So my amazing wife @laurahopperhops gave birth to our second beautiful child," he captioned the photo. "Welcome to the world, our baby daughter, Truly Rose Hopper. Weighing 8lb 1oz. Family bed times just got even more cozy ❤❤❤."
The family's casual attitude towards breastfeeding is enough to make this nursing mama throw up some praise hands. Posts like this by celebrities go a long way towards normalizing breastfeeding on social media. Other celebs like Chrissy Teigen and Blac Chyna have posted photos of themselves nursing, proving that feeding your child is something to celebrate rather than hide. Posts from dads like Hopper play a special role in the normalizing breastfeeding movement, showing that the support of partners is key. But breastfeeding isn't the only aspect of parenting that Hopper includes in his Instagram posts.
In another, he is shown doing some special bonding and nurturing of his own in the form of skin-to-skin with little Truly. Skin-to-skin care, also referred to as Kangaroo Care is generally discussed in terms of a nursing mother holding her child, clothed only in a diaper, on her bare chest. The practice has a number of benefits for both mother and baby, according to Fit Pregnancy, including increased rates of healthy weight gain, milk production, and breastfeeding and decreased crying. But moms aren't the only ones who can get in on the cuddles, as Hopper proved in his second post that he captioned:
I feel like the luckiest guy on earth. There is no feeling like the skin on skin I've had with our beautiful children after their births. An immediate and unique bonding process that is the most beautiful of moments to experience as a parent.
He goes on to explain just how special that time is for him and his children:
Their hearts beating next to yours for the first time, and your body warmth keeping them comfortable and secure. A true blessing to be able to give and it's nature at its finest. I feel so lucky to have had this experience with both our babies straight after they were born. Memories that I will treasure forever. ❤ Thank you #nhs for giving us the best possible birthing experiences and care for both our babies 🙏.
According to Healthy Children, skin-to-skin helps dads bond with their babies and regulate their heartbeat and body temperature. It also makes for some seriously sweet photos, in my opinion.
Another celebrity father, Dwayne Johnson, recently made headlines for his own skin-to-skin photo with daughter Tiana. Dr. Idries Abdur-Rahman, OB-GYN and blogger for TwinDoctorsTV, explained to Romper a few months back via email why it is so important for dads to participate in Kangaroo Care:
Dads absolutely should do skin-to-skin for all of the reasons that we just discussed. Skin-to-skin strengthens baby's immune system, helps to calm baby, and stimulate better sleep and create stronger bonds.
If his Instagram feed is any indication, Hopper is soaking up every moment with his new baby. Keep sharing the sweetness, dad.