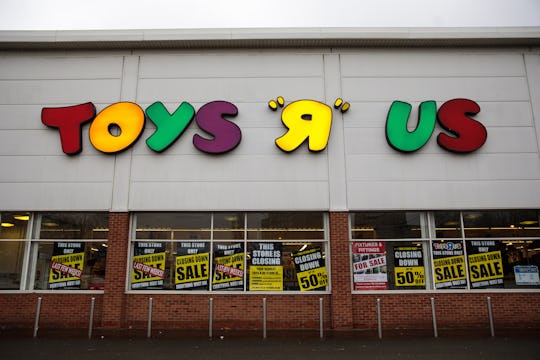 Jack Taylor/Getty Images News/Getty Images
Toys "R" Us Is Closing 200 More Stores, & Here's What We Know
Toys "R" Us will reportedly close an additional 200 stores and lay off a great chunk of its higher-level staff, according to a report from The Wall Street Journal published on Wednesday. The grim news follows the company's decision to pull the plug on 182 locations in January as part of its Chapter 11 bankruptcy reorganization plan. Of course, this is disappointing information to all the parents out there who rely on Toys "R" Us for their shopping needs and are hoping to avoid online shopping at all costs. And if you're wondering how Toys "R" Us' closure of 200 more stores affects you or if you simply want to know what the heck is going on, there's a good chance you're not alone. That being said, here's everything we know about the reported closures.
The holiday season can be a make or break it time for struggling retail chains. Sadly, Toys "R" Us didn't have a great go of it this season, according to the WSJ's report, and it's possible more closures could occur in the near future as a result. Although Toys "R" Us has yet to make an official announcement about the reported closures, there's a good chance more information will be available following a staff meeting Thursday at the company's headquarters in Wayne, New Jersey, according to The Record.
Amy von Walter, a spokesperson for Toys "R" Us tells Romper in a statement:
As we have shared publicly our focus is on the reinvention of our business and emergence from Chapter 11. Decisions about our future store footprint and organizational structure will be based on the needs of the new business model. It is therefore premature for us to comment on that. Everything that you may have seen in the news is today/yesterday is based on pure speculation.
As for what stores will be affected, an official list has yet to be released. It's possible, however, that the list of closures could include as many as 260 locations, according to The Record. Toys "R" Us recently requested the bankruptcy court to extend the deadline by which it must notify landlords that it intends to end store leases, and if this request is not met, the leases of 260 sites will likely be terminated.
It goes without saying that the news is unfortunate for Toys "R" Us' employees throughout the United States. And to add insult to injury, the company will reportedly no longer offer its affected hourly employees severance packages, according to internal documents reviewed by the WSJ.
What's interesting, however, is that Toys "R" Us received approval from a judge to give 17 executives around $14 million in incentive bonuses in November, according to Penn Live. At the time, the company argued that this additional money would boost morale and drive up sales.
Judy Robbins, a Department of Justice attorney "representing the interest of creditors," deemed the move illogical and risky given Toys "R" Us' precarious financial situation. Robbins stated, according to The Washington Post.
It defies logic and wisdom, not to mention the Bankruptcy Code, that a bankrupt company would now propose further multi-million dollar bonuses for the senior leadership of a company that began the year with employee layoffs and concludes it in the midst of the holiday season in bankruptcy.
Many Twitter users are arguing that it's unfair and incredibly confusing that hourly employees will reportedly not receive severance benefits while 17 execs were granted millions.
Following the news of the reported closures and Toys "R" Us' dire financial predicament, many people took to social media to express their sorrow. For many people, Toys "R" Us holds a lot of sentimental value. And on a personal note, I distinctly remember trying to trick my babysitter into taking me to Toys "R" Us so I could "just look" at the toys. Of course, I always managed to leave with a little something.
And for this person whose parents met at Toys "R" Us, its impending demise is especially difficult:
Others, however, think the company is getting exactly what it deserves.
No matter where you stand on the Toys "R" Us debate, it's never a happy thing to see a business fail. At the end of the day, many people will lose their livelihood as a result of these reported closures, and that's nothing to celebrate.
Check out Romper's new video series, Bearing The Motherload, where disagreeing parents from different sides of an issue sit down with a mediator and talk about how to support (and not judge) each other's parenting perspectives. New episodes air Mondays on Facebook.