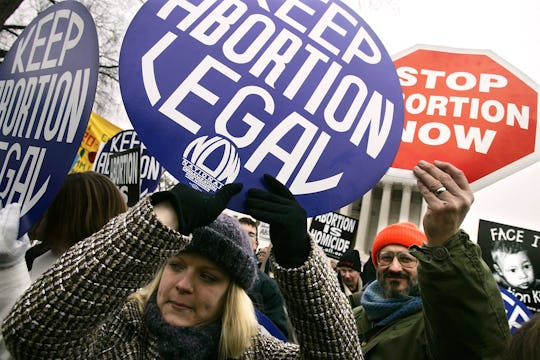 Alex Wong/Getty Images News/Getty Images
Trump Official Reportedly Considered "Reversing" An Undocumented Teen's Abortion
You might remember reading reports last year about the Department of Human Health and Services (DHS) allegedly not allowing undocumented teens in federal detention centers, run by the Office of Refugee Resettlement (ORR), to get abortions that they applied for. As reported by Vice on Wednesday, citing memos and emails from a lawsuit filed by the American Civil Liberties Union (ACLU), it looks like a Trump official reportedly considered "reversing" an undocumented teen's abortion. Romper's request for comment from the DHS as well as the ORR on Vice's report were not immediately returned.
Since October, according to the ACLU, four women have accused the ORR of not allowing them to have abortions, even though they had reportedly gone through the proper channels and asked a judge to approve a medical abortion for them.
Scott Llyod — a longtime anti-choice advocate who is also inexplicably running the agency that oversees the health and well-being of undocumented minors — allegedly attempted to block the abortion of a 17-year-old girl who had fled El Salvador and wanted to terminate her pregnancy in March because she was raped before being detained, according to emails obtained by Vice.
That was not the first time he attempted to block the abortion of a young women in custody. In December, Llyod called a woman's desire to terminate the pregnancy "violence against innocent life," The Washington Post reported at the time.
According to one of the memos that surfaced in a December deposition, a woman last March had taken one part of her medical abortion pills and planned to take the other, to finish the abortion, the next day, as reported by The Guardian. But in the middle of the night, ORR Director Kenneth Tota allegedly sent out a memo to staff saying that they couldn't allow her to take the second pill. According to Vice, the memo read:
If steps can be taken to preserve the life of the [unaccompanied minor] and her unborn child, those steps should be taken. In any event, the health and safety of the UAC must be preserved.
But, according to Vice's report, they went farther than just trying to block the woman from having an abortion in the name of "protecting life." Officials in both agencies allegedly took actions that amount to experimentation on a young, undocumented immigrant's body, by reaching out to a medical clinic and asking if they could give the woman progesterone to reverse the procedure and going back and forth about ultimately allowing her to finish taking the medicine, according to Think Progress. (Ultimately, the agency allowed the woman to have the abortion and there's no evidence that they administered progesterone, as The New York Times reported.)
It might be best to back up a minute and explain what a medical abortion actually is, since the language is often twisted in partisan conversations. The "abortion pill" is actually two pills. The first one is mifepristone, which blocks a woman from producing progesterone, a hormone that enables pregnancy, and can only be taken at a clinic or with a doctor. Six to 48 hours later, a woman takes another pill, misoprostol, often at home, which causes bleeding to empty the uterus, according to Planned Parenthood.
Anti-abortion groups have started talking about "abortion reversal," or giving a woman a high dosage of progesterone after the first pill to stop the abortion, and it's something to keep your eye on if you want to protect a woman's right to choose. In fact, an "abortion reversal" bill was just introduced in Idaho this week that would require a doctor to tell a woman that "abortion reversal" is an option before she receives the pills for a medical abortion, as the Seattle Times reported. Arkansas, Arizona, and South Dakota already require this counseling, according to the Guttmacher Institute.
These bills are just the latest move by anti-choice groups to talk a woman out of an abortion as if she wasn't capable of choosing what to do with her body. They are also based in junk science, just like so many other myths about abortion, whether it's what it does to a woman's body or perceptions about who goes through with the procedure.
But the junk science and lack of consent is the most concerning thing about what allegedly happened to these young women in federal custody. For one, the Food and Drug Administration does not approve "abortion reversal" by giving a woman progesterone, according to the Kaiser Family Foundation.
The only studies that found "abortion reversal" to be legitimate were conducted by anti-abortion activists and don't adhere to medical standards, The Washington Post reported. According to the American College of Obstetricians and Gynecologists (ACOG), while some women respond to progesterone, it can cause side effects that can endanger the life of the woman and the organization doesn't recommend a high dosage of progesterone to "reverse" an abortion.
In the very rare cases a woman wants to stop the abortion, she can choose — choose, with the guidance of her trusted doctor — to just not take the second pill, according to the ACOG.
So, what these federal officials allegedly considered doing to the undocumented women was to withhold the second pill and give her a high dose of progesterone, which, as mentioned above, is not recommended by health experts or even approved by the FDA.
Dr. Daniel Grossman director of Advancing New Standards in Reproductive Health (ANSIRH) and the lead author on the singular, comprehensive study on abortion reversal, tells Romper in a statement via email:
As a physician, I find it very concerning that ORR considered using progesterone treatment to attempt to reverse the effect of mifepristone that had been taken by an undocumented teen in their custody. There is no evidence that this treatment is more effective than simply not taking misoprostol, the second drug used in medication abortion. And it is particularly concerning that this treatment might have been considered without informing the young women that it is an experimental therapy and obtaining her informed consent. This is potentially reproductive coercion.
Just because the federal agencies housing these women are run by conservative, anti-choice activists doesn't mean that the government can deny these women their medical rights. And abortion is still legal, though finding services may be difficult depending on the state. Luckily, federal judges have not side sided with the Justice Department when it comes to blocking these abortions for undocumented women in custody and have forced them to act in accordance with the constitution, but not without the help of the ACLU bringing these cases to their attention.