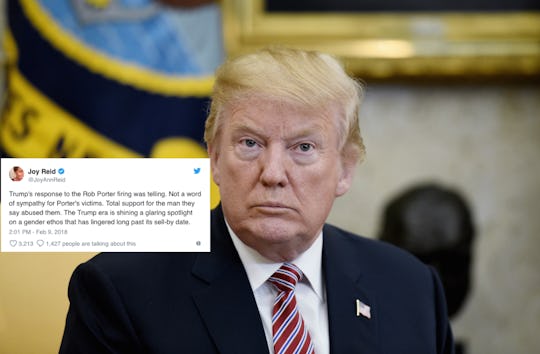 Pool/Getty Images News/Getty Images
Trump Says He Hopes Rob Porter Has A "Great Career," & Twitter Is So Pissed
On Wednesday, Rob Porter, a senior White House aide, resigned abruptly amid allegations of domestic violence from two former wives that surfaced Tuesday, according to CNN. In a press conference addressing the resignation, President Donald Trump said he hopes Rob Porter has a "great career." And, rightfully, all of Twitter is pissed at Trump for defending an alleged abuser.
In two interviews with CNN, Porter's two ex-wives, Colbie Holderness and Jennifer Willoughby, detailed a long history of alleged physical and emotional abuse that led to their respective divorces. Holderness, Porter's first wife, told CNN that the alleged physical violence began soon after they married in 2003, and continued throughout their marriage until their eventual divorce. Willoughby, his second wife, said the alleged emotional abuse she had "already become familiar" within their relationship became "more intense" during and after their honeymoon in 2009. They divorced in 2013, according to CNN. (Romper reached out to the White House for comment, but did not immediately hear back.)
Porter released a statement quickly after he resigned denying any incidents of abuse, CNN reported. The former White House aide called the allegations "outrageous," and claimed that they are "simply false." He continued in his statement: "I have been transparent and truthful about these vile claims, but I will not further engage publicly with a coordinated smear campaign." A representative for Porter did not immediately respond to Romper's additional request for comment.
Speaking to reporters on Friday, Trump praised Porter's performance as a White House employee, wishing him professional success in the future, Vox reported. The president said at the press conference, according to Vox,
We wish him well, he worked very hard. We found out about it recently and I was surprised by it, but we certainly wish him well, and it's a tough time for him. He did a very good job when he was in the White House. And we hope he has a wonderful career, and he will have a great career ahead of him.
He also maintained that Porter is innocent of the domestic violence allegations because, you know, Porter denied the reports. Among the evidence against Porter, Vox noted, is an order of protection filed by Willoughby, and a photograph of Holderness with a black eye she claimed Porter caused when he allegedly punched her in the face in 2005. Trump failed to acknowledge either of Porter's ex-wives in his statement.
The president continued, according to Vox,
It was very said when we heard about it, and certainly he's also very sad. Now he also, as you probably know, he says he's innocent. And I think you have to remember that. He said very strongly yesterday that he's innocent. So you'll have to talk to him about that.
Trump's comments, though, contradict the prepared statement White House Deputy Press Secretary Raj Shah gave to reporters on Thursday afternoon. Shah said during the press briefing this week, according to the official White House transcript,
It's important to remember that Rob Porter has repeatedly denied these allegations, and done so publicly. That doesn't change how serious and disturbing these allegations are. They're upsetting. And the background check investigates both the allegations and the denials. The investigation does not stop when allegations comes to light. It continues to determine the truth.
Take that with a grain of salt, though, because the White House has flip-flopped on the Porter scandal at least three times, by Vox's count. White House chief of staff John Kelly defended Porter on Tuesday night and Wednesday afternoon, calling the former staff secretary "a man of integrity," according to Politico. But late Wednesday evening, Kelly issued another statement, claiming he was "shocked by the new allegations" and that "there is no place for domestic violence in our society," Politico reported.
Of course, none of this is actually surprising, although it is disturbing. Trump is the same man who defended Roy Moore, the losing candidate in the Alabama senate race. During his campaign, Moore faced multiple sexual misconduct allegations from multiple women, some of whom were teenagers at the time of the alleged assaults (Moore has fully denied the reports). Trump never wavered in his support of Moore, and even attacked one of the victim's credibility during a rally in Florida in December, according to The Los Angeles Times. Moore hasn't responded to Romper's additional requests for comment.
If nothing else, Trump's defense of Porter only confirms what critics of the president already know: Women are unwelcome here*.
*As well as people of color, transgender and gender non-conforming people, people with disabilities, poor people, and anyone who isn't a cishet white man.
Check out Romper's new video series, Romper's Doula Diaries:
Watch full episodes of Romper's Doula Diaries on Facebook Watch.