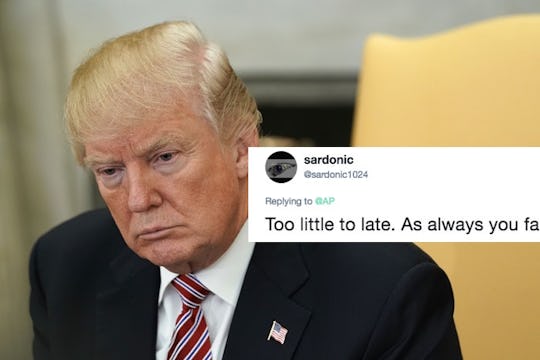 Alex Wong/Getty Images News/Getty Images
Trump Says He's "Totally Opposed" To Domestic Violence & Twitter Is Calling BS
President Donald Trump has made some outlandish and offensive comments since he took office. But sometimes, it's his lack of commenting on situations that makes things worse. A recent example: last week, two top White House aids resigned due to allegations of spousal abuse. After days of seemingly avoiding the topic, the president has finally broken his silence. On Wednesday, as CNN reported, Trump said he's "totally opposed" to domestic violence — and Twitter was having none of it.
"I'm totally opposed to domestic violence. And everybody here knows that," Trump reportedly said in the Oval Office, as reported by CNN. "I'm totally opposed to domestic violence of any kind. Everyone knows that. And it almost wouldn't even have to be said. So, now you hear it, but you all know."
Trump has had other opportunities to comment on this issue publicly since it arose, but he made no moves to denounce domestic violence until today. On Friday, Trump acknowledged staff secretary Rob Porter's resignation, remarking that Porter "says he's innocent," according to Politico. Trump also wished Porter well, and he commended him for "doing a very good job" in his role at the White House. "We hope he has a wonderful career, and he will have a great career ahead of him," Trump added.
However, in that statement as well as the one issued this morning, Trump did not mention the stories of abuse from Porter's two ex-wives. Romper's request for comment from the White House regarding Porter's resignation as well as the allegation made against him was not immediately returned.
Trump has made it clear that he does not support victims, and his statement that he is "opposed to domestic violence" (three times over) does nothing to denounce his former staff members' alleged actions. And the people of Twitter seem to agree that his statement was, well... B.S.
In a press briefing on Monday, two days before Trump attempted to denounce domestic violence, several reporters asked Press Secretary Sarah Huckabee Sanders why Trump had yet to comment on the seriousness of domestic violence. Sanders told the members of the press:
The President and the entire administration take domestic violence very seriously and believe all allegations need to be investigated thoroughly. Above all, the President supports victims of domestic violence and believes everyone should be treated fairly and with due process.
When asked why the president had yet to say that he "takes domestic violence very seriously," Sanders responded: "I spoke with the President, and those are actually directly his words that he gave me."
Not to mention, Porter denied the domestic violence allegations when he resigned last week. "These outrageous allegations are simply false," Porter said in a statement at the time, according to CNN. "I have been transparent and truthful about these vile claims, but I will not further engage publicly with a coordinated smear campaign."
Both Porter and Trump's statements work to erase the stories shared by Porter's ex wives, Colbie Holderness and Jennie Willoughby. Holderness wrote an op-ed for the Washington Post about Porter's alleged abuse. "For me, living in constant fear of Rob's anger and being subjected to his degrading tirades for years chipped away at my independence and sense of self-worth," Holderness wrote. "I walked away from that relationship a shell of the person I was when I went into it, but it took me a long time to realize the toll that his behavior was taking on me. (Rob has denied the abuse, but Willoughby and I know what happened.)"
And on top of all this, the White House reportedly knew about allegations of Porter's abuse, because of "problems" that showed up in his background check last summer, according to The New York Times. However, that information was allegedly swept under the rugs of the West Wing, supposedly kept secret from some top White House officials.
If you or someone you know has been a victim of domestic violence, feel free to call the National Domestic Violence Hotline at 1-800-799-7233.