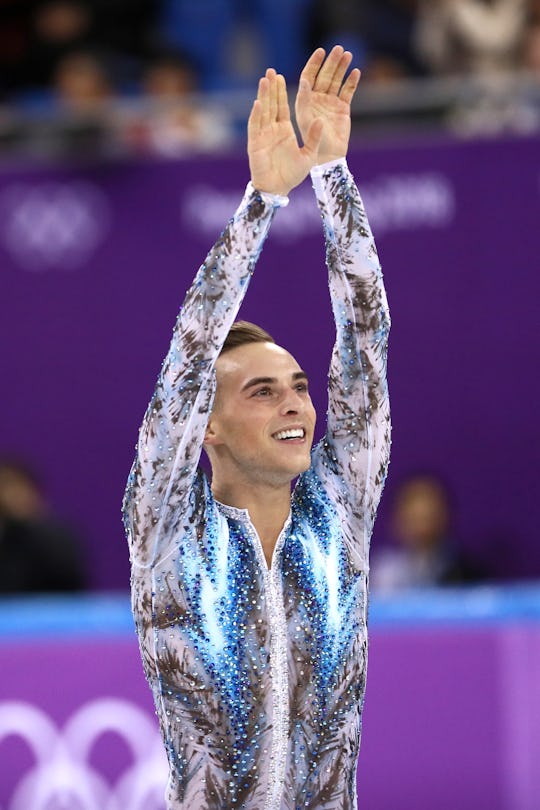 Jamie Squire/Getty Images Sport/Getty Images
Adam Rippon's Olympic Free Skate Routine Was Amazing, & Twitter Is Absolutely *SCREAMING*
Before the Olympics began, there were a few names that stood out from the rest. One of them was Adam Rippon, the 28-year-old skater who was heading to South Korea to represent the U.S. for the first time in his life. On Sunday, he took millions of people's breath away in the team finals, and landed in third for his category. But, even though he was third, tweets about Adam Rippon's free skate prove Twitter is absolutely smitten with the Olympian for his talent and his charisma at this year's Winter Games.
Sunday night was a big night for Team USA. In addition to Rippon's performance, many were waiting with bated breath to see the Shibunati siblings (also known as the #ShibSibs on Twitter) also take to the ice and wow the world. But, this isn't about them, this is about Rippon, who has already won the gold medal in personality at the Olympics. Seriously, if you haven't heard Rippon's feelings about the famous Olympic condoms that are actually "generic" as hell, you're missing out.
The charisma that fans have grown to love before this night's performance was evident on the ice. Not only does Rippon know how to win audiences over in interviews and social media, but when he hits the ice, he will seriously leave you breathless. Don't believe me? Just check out some of the tweets below to see people's reactions to his performance.
Despite the thrilled response on social media, Rippon landed in third in his category for male free skate. This was a rather controversial placement, considering the two countries to land in front of him, Russia and Canada, both featured male competitors that fell during their routines. Obviously, this caused Twitter to release some rage, because their favorite skater just got "robbed," as one user put it.
USA Today outlines the reasoning behind the lower score for Rippon in a rather easy-to-understand way (even though Olympic scoring is anything but easy). Basically, the skaters who scored higher than him attempted to perform harder stunts (quads, for those who know the lingo). It is a method of scoring that can be traced back to 2010 Vancouver Games. USA Today writes:
If a skater falls on a quad, technical judges take a close look. Did he land it before he fell? They also look closely at what a skater's foot is doing on landings to make sure it is fully rotated when it lands. The reason quads are such a big deal is because they take so much time to perfect.
This is Adam Rippon's first time competing at the Olympics. America has fallen in love with the figure skater, which is exactly what he has been waiting for forever, according to USA Today. In a featured interview, Rippon told the publication, "I am ready. I've been ready my whole life."
This isn't the first bit of drama the figure skater has experienced in his time surrounding the Olympics. Currently, Rippon is in a bit of a public tift with the vice president and leader of the U.S. delegation of the Olympic opening ceremony, Mike Pence. As The New York Times writes, this controversy "seems to have it all." Rippon has been public about his dislike for the vice president, who has in the past allegedly supported gay "conversion therapy." (Rippon is one of the first openly gay Olympians for Team USA.) Pence has, reportedly, denied support of the discredited methods, still Pence has never been a friend of the LGBTQ community, once calling being gay a "choice," according to Time. According to The New York Times, Rippon declined an invitation to meet with Pence before the Olympics began.
Rippon's performance in the free skate is one that proves that first-timers can truly dazzle audiences down to their core. And while his score is lower than many (many) would have imagined it would have been, we can be assured that this is only the beginning of the Ripponmania, so just sit back and enjoy the ride.