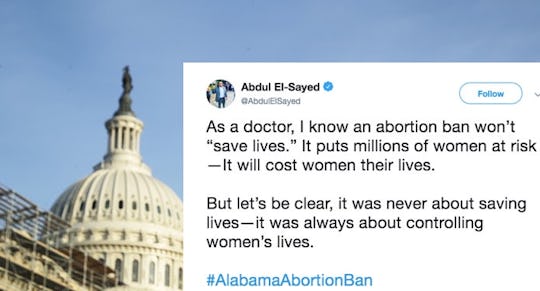 Chip Somodevilla/Getty Images News/Getty Images
These Tweets About Alabama's Abortion Law Point Out How Backwards & Amoral It Is
A seismic shift in reproductive rights has occurred, undermining the principle of Roe v. Wade, and leaving many individuals concerned for the future of bodily autonomy. On May 15, Alabama Gov. Kay Ivey signed the nation's most restrictive abortion ban into law, the consequences for which are potentially devastating to say the least. In fact, these tweets about Alabama's abortion law and other states' anti-choice legislation highlight just how serious it is, and how much we need to be paying attention.
For those who aren't familiar, this week, HB314, "The Human Life Protection Act," was signed into law in the state of Alabama. According to CBS News, it's the "most restrictive abortion measure passed in the United States since Roe v. Wade," as it bans nearly all abortions except for when necessary to "avoid a serious health risk to the unborn child's mother" or if the fetus "has a lethal anomaly."
Even more strikingly, Alabama's new law would actually criminalize abortion; according to CNN, those who perform abortions could be charged with a Class A Felony, punishable by 99 years in prison. The Washington Post clarified that, despite popular misconceptions, women who have sought abortions cannot be incriminated for them, rather, the law moves to actually charge those who conduct the procedure (doctors or other medical professionals) instead.
The situation has caused a predictable and understandable uproar on social media, as countless people from around the country and world share the most compelling reasons why we need to rethink the legitimacy — and the claims being made — as to why this is a moral and ethical good for our country, but not individuals as a whole.
Here are some of the best.