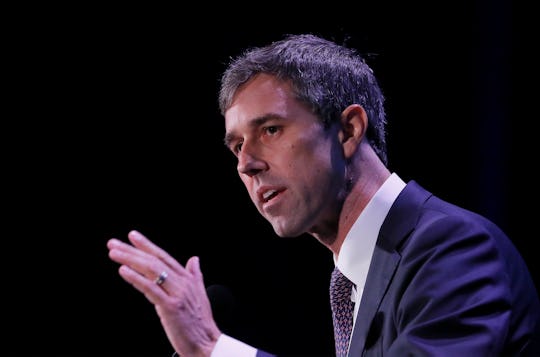 Joe Skipper/Getty Images News/Getty Images
Tweets About Beto O'Rouke Speaking Spanish At The 2020 Debate Are LOL
If you tuned into day one of the Democratic debate on Wednesday, June 25, you might have been thrown a loop when one candidate answered a question in a foreign language. Several of his fellow Democratic candidates seemed to be, after all. And tweets about Beto O'Rourke speaking Spanish at the 2020 debate are everything.
The event kicked off at 9 p.m. (ET,) and it started like any other debate. That is, until it was O'Rourke's turn to answer a question from Savannah Guthrie, who simply asked if he would support a 70-percent marginal tax rate for the ultra-rich. Interestingly, O'Rourke proceeded to tackle the question in Spanish — prompting some confused reactions from fellow candidates standing next to him.
As USA Today reported, O'Rouke first answered in English he didn't believe the economy is working for everyone. He then repeated this answer in Spanish that the economy doesn't represent everyone in the United States. "Right now we have a system that favors those who can pay for access and outcomes," he continued. "That's how you can explain an economy that is rigged to corporations and to the very wealthiest."
As you can imagine, Twitter couldn't help but chime in about it all. Many of the reactions focused on Sen. Cory Booker and Sen. Elizabeth Warren looking at O'Rourke like, "WTF?!" One Twitter user wrote, "Cory Booker looking at Beto O'Rourke while he speaks Spanish like, 'This f*ckin' guy.'" Alas, a meme was born.
Another Twitter user wrote, "Side eye while Beto speaks Spanish."
For all the non-Spanish-speaking viewers out there, O'Rourke could have been saying pretty much anything. One Twitter user wrote, "Savannah: Would you support a 70% tax rate Beto: OK, first of all, let me start by reading the lyrics to 'Wonderwall' in Spanish."
Yet another person made a valid point, tweeting, "Beto managed to avoid answering the question in both Spanish and English."
Another person agreed, tweeting, "Every other Democrat candidate watching Beto completely avoid saying what the top marginal tax rate should be by talking in Spanish," alongside a GIF of Oprah giving some serious side-eye.
Eventually, candidates Julian Castro and Cory Booker also answered a questions in Spanish. This prompted even more amusing Twitter reactions. One person wrote, "CORY BOOKER LOOKED UP HIS SPANISH DURING THE BREAK, YOUR MOVE BETO."
Another person tweeted, "democratic debate 2019: the battle to speak more spanish." LOL. Pretty much for a moment, there.
At a different point in the debate, moderator José Díaz-Balart asked O'Rouke about immigration in Spanish, according to the Miami Herald. Diaz-Balart asked O'Rourke about the viral photo of a father and daughter who drowned in the Rio Grande while attempting to come to the U.S.
In a seriousness, though, Latino voters are key constituents in the primary election, Politico reported. It's also likely they're the largest racial or ethnic minority in the electorate, according to the publication. So it makes sense that Democratic candidates would want to speak directly to people who could effect the election's outcome. The real question is: Will it make a difference?