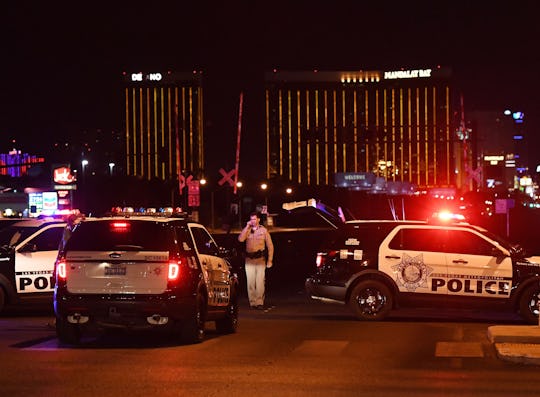 MARK RALSTON/AFP/Getty Images
Tweets & Videos From The Scene Of The Last Vegas Shooting Will Break Your Heart
Horror struck Las Vegas on Sunday night after a lone gunman opened fire on civilians attending the Route 91 Harvest Music Festival. As a result, over 50 people have been reportedly killed and it's already being referred to as "the deadliest shooting in modern U.S. history," according to ABC News. But tweets and videos from the scene of the Las Vegas shooting are what truly capture the complete and utter heartbreak felt around the world right now.
Update: As of 6 p.m. ET on Monday, Oct. 2, CNN reports that 59 people have died and over 500 people were injured. Authorities say the suspect had 18 additional firearms, explosives and several thousand rounds of ammo at his home in Mesquite, NV.
The shooting began during a Jason Aldean performance (who has been confirmed to be safe) and according to NBC News, law enforcement officials have now identified the gunman as a 64-year-old man, who allegedly killed himself in his hotel room prior to police entry. As of now, they do not believe another shooter is at large and that the shooter was acting alone. The pain he left in his wake, however, is extremely vast. More than 400 people were injured and taken to area hospitals.
"We heard what sounded like firecrackers going off. Then all of a sudden we heard what sounded like a machine gun," witness Meghan Kearney told MSNBC. "People started screaming that they were hit… When we started running out there were probably a couple hundred [people] on the ground." She added: "People kept dropping and dropping. … People were getting shot one foot away from us. People were trying to save their friends. There were gunshots everywhere. Helping them would've meant that we got shot, too."
Another concertgoer, Mike Cronk, described the horrific experience to ABC News, stating:
We were just at the concert there, and Jason Aldean was playing ... Kind of sounded like some fireworks going off. I think there was the first kind of volley, and then all of the sudden second volley. My buddy's like, 'I just got hit, you know.' He got hit three times. Then people started diving for the ground. And it just continued ... It was pretty much chaotic ... Lots of people got hit ... It took a while to get him out. We had to get him over the fence and hiding under the stage for a while, you know, to be safe. And, finally, we had to move him because he had three chest wounds ... But I just got a message from my buddy — and he's going to be OK.
Unfortunately, the world has become more than familiar with its fair share of mass shootings. 2016's Pulse Nightclub shooting saw the death of 49 people, while 32 were killed in the Virginia Tech shooting back in 2007, and the Sandy Hook Elementary shooting resulted in the death of 27 people. But the Las Vegas shooting has the highest death toll yet and it's left many heartbroken with the state of the world.
President Trump was quick to respond to the tragic incident and took to Twitter on Monday morning around 7 a.m. Eastern Time to offer up his condolences on the lives that have been lost. "My warmest condolences and sympathies to the victims and families of the terrible Las Vegas shooting. God bless you!," the statement read, which seemed rather heartfelt for a change, especially given his recent unkind messages toward the people of Puerto Rico who he claimed "want everything done for them" in the aftermath of Hurricane Maria, which has left many without power or clean drinking water. Suffice to say, it was good to see a more sensitive tweet come from the President of the United States.
But regardless, this is a devastating moment in our country's history and our thoughts and prayers go out to the people who have lost loved ones because of it.