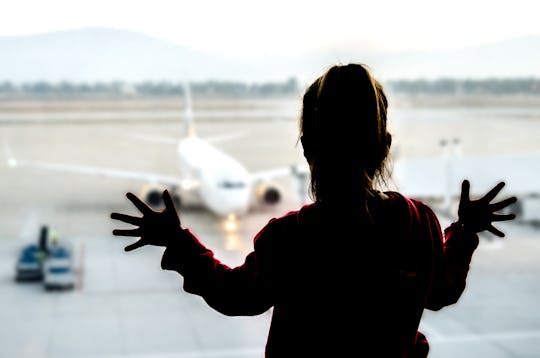 Fotolia
This Airline Is Donating Flights To Address A Sprawling Family-Separation Crisis
Airlines have previously taken sides in the ugly family-separation policy immigration battle, but one particular airline is taking it one step further. United is donating flights to reunite immigrant children with their families, per a Facebook announcement reported on by Biz Journal.
You may recall that back in June, American, United, and Frontier airlines said they wouldn't fly immigrant children who had been separated from their families, according to Vox. Now, United is saying it will actively help reunite those families. In a statement to The San Francisco Business Times on Thursday, United announced: "United Airlines is proud to support the work of FWD.us as they help to reunify immigrant children with their families. United is in a unique position to provide badly needed support that few can provide to help reunify these families, and we take pride in doing our part to connect people and unite the world."
FWD.us was founded by Microsoft's Bill Gates, Facebook's Mark Zuckerberg, and Dropbox's Drew Houston, according to The Hill. The organization supports "comprehensive immigration reform," according to its website.
On Wednesday, FWD.us wrote about United's help in a Facebook post. The post said that the group had "great" news to share, and that "a growing community of support is coming together to reunite families who were separated at the border." The post went on to say:
"We are so thankful and happy to announce that United Airlines is jumping in and helping. Thanks to this partnership with United, we are able to provide travel to the recently reunited immigrant families to get to their next destination with dignity.
"FWD.us, RAICES, and We Belong Together would like to thank United for their generosity in the face of this crisis and for being an amazing partner in the #FlightsforFamilies effort. This is so needed, timely, and critical. Thank you to our friends at United!"
United's Twitter account also retweeted a message from FWD.us about the move.
The San Francisco Business Times pointed out that United risks alienating supporters of the Trump administration's zero-tolerance policy, under which anyone who enters the United States illegally is prosecuted.
But United appeared to be getting a lot of support for the move.
The top comment on the FWD.us post was from United itself, and said, "Our company's shared purpose is to connect people and unite the world -— we are proud to support your work to help reunify immigrant children and families."
And for the most part, people seemed to like it. Comments on the post ranged from "Thank you, THANK YOU, THANK YOU for your support and generosity!," to "THANK YOU United. A beautiful and impactful partnership. I + many other customers will remember this."
Immigrants who are detained at the border, and those who were separated from their children, are guaranteed no legal representation under U.S. law; likewise, the government had asked immigrant parents to pay for travel to greet their children once they are released, as Reuters reported, while a Californian judge recently ordered the Trump Administration to pay. Crowd-funding has sprung up in the interim.
Recently, a Facebook spokesperson told the New York Times that a fundraiser page, "Reunited an immigrant parent with their child," had become the largest single-page fundraiser in Facebook's history.
Unfortunately, even as people are working hard to reunite the immigrant families that they can, there are many more immigrant children who remain separated in government custody. The court-ordered deadline to reunite all eligible families that were separated by the Trump administration at the border has passed, and one in three of these children are still away from their parents, CNN reported on July 26.
If you're looking for a way to help, the Refugee and Immigrant Center for Education and Legal Services (RAICES) and the American Civil Liberties Union are performing legal representation, advocacy and outreach services for immigrant families.