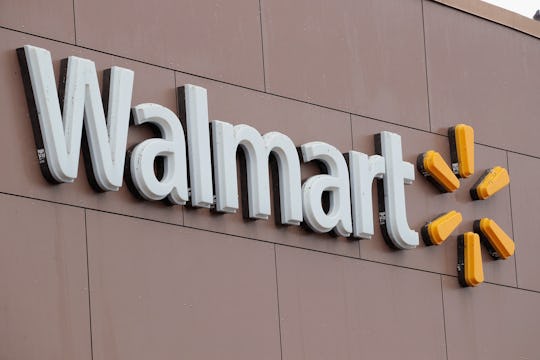 Scott Olson/Getty Images News/Getty Images
Yes, Walmart Really Is Selling 'Impeach 45' Baby Clothing
Politically-inspired clothing is definitely not a new thing. In recent years, though, it seems more and more people are walking around wearing, "Make American Great Again" caps or pink pussy hats, "Lock Her Up" or "Resist" shirts, "Nevertheless, She Persisted" or "Deplorable" t-shirts. Individuals seem to have no problem proclaiming their political affiliations to the general public by letting their clothing speak for them. Which is fine and all — but what about when it comes to babies? Because as it turns out, Walmart is selling "Impeach 45" baby apparel, and Twitter has a lot of feelings.
"These items were sold by third-party sellers on our open marketplace and were not offered directly by Walmart," a Walmart spokesperson told Romper via email. "We're removing these types of items pending review of our marketplace policies." In case you were wondering, though, the baby body suit had a listed price of $16.95 on Walmart.com, before it was pulled. As USA Today reported, a Twitter user by the name of Ryan Fournier has attracted more than 10,400 likes with is July 2 tweet. "@Walmart why are you selling Impeach 45 baby clothes on your website?????" Fournier wrote. "What kind of message are you trying to send?"
Plenty of other people were outraged over the "Impeach 45" shirt, too. One person tweeted, "Seriously @Walmart ? Impeach 45? This needs to be gone today! Do you really want to lose your @realDonaldTrump supporters? Look at this map.... and this was before the #WalkAway movement!"
Another Twitter user wrote, "Impeach 45? You have 13 products for [sale] on your website that pertain to Impeach 45. Not good."
Yet another person tweeted, "How, how could a multi-BILLION dollar business allow this to happen? You have thousands of buyers in your company yet no one to police what is put on your internet site. Give me a break!! #BoycottWalmart."
Still others were amused by the concept— and totally in support of the existence of such a shirt. One Twitter user wrote, "Retweet if you'd consider buying Walmart's new 'Impeach 45' apparel. (PS - Don't you just LOVE the free market!)"
Another person tweeted, "I find it hilarious that Trump Supporters are calling for a boycott of Walmart over the fact they sell "Impeach 45" t-shirts, yet they are perfectly fine with Walmart selling "Hillary for Prison" T-Shirts. It's called Freedom of Speech! Don't #BoycottWalmart. #ShopWalmart!"
Yet another Twitter user chimed in with, "That is an amazing one piece! I haven't shopped at Walmart for a long time but they have my business once again!"
Ultimately, though, Walmart did publicly reply to Ryan Fournier's Twitter complaint with the same message it sent to Romper. "These items were sold by third-party sellers on our open marketplace and were not offered directly by Walmart." the official Walmart Newsroom account tweeted back. "We're removing these types of items pending review of our marketplace policies."
Hmmm. I wonder if this means Walmart will be cracking down on all of its politically-divisive merchandise?
Like this shirt currently for sale that reads: "Adorable Deplorable."
Or this one that says, "Hillary Killed My Friends."
And yikes. What about this shirt that reads, "Vote Democrat. It's Easier Than Working." (Oh no, they didn't)
Still, none of these are meant specifically for babies. So maybe that's the difference, in Walmart's eye.
Of course, this isn't the first time Walmart has sold controversial merchandise. In November 2017, the company sold a shirt that read, "Rope. Tree. Journalist. SOME ASSEMBLY REQUIRED," the NY Daily News reported. And in December 2016, Walmart decided to pull shirts that read, "Bulletproof: Black Lives Matter," after public outrage, Essence reported. However, the company decided to keep other Black Lives Matter, Blue Lives Matter and All Lives Matter merchandise.
I guess my point, here, is the "Impeach 45" shirt isn't implying that someone should be killed, hanged, or jailed. (Plus, although it might be considered by some to be in "poor taste" to dress an infant in political garb, there are plenty of businesses that sell just that.) For the record, people who want Trump impeached generally aren't anti-patriotic. Because newsflash: The process of impeachment, as many people see it, is actually in place for the greater good of the country.