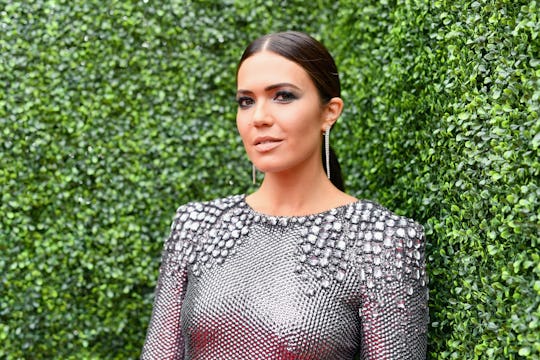 Emma McIntyre/Getty Images Entertainment/Getty Images
'This Is Us' Fans Are Shocked That Mandy Moore Didn't Receive An Emmy Nom
Every year at the Emmy Awards, there are some nominations that seem like a sure thing. After listening to fans rave on social media and critics praise certain actors and actress all year long, you come to expect that those people will see some love come awards time. But despite the fact that Mandy Moore was celebrated for her role in This Is Us, she didn't receive a nomination. So was Mandy Moore snubbed by the Emmys?
It's a subjective opinion to be sure, but it's hard not to feel like Moore missed out based on her performance as Pearson family matriarch Rebecca. She has been totally killing it since Season 1, but Season 2 seemed especially designed to show off her range. Rebecca experienced triumph and despair, she made mistakes and made amends. She figured out how to put her family back together after her husband's death. Viewers watched her live through highs and lows over the course of decades, and Moore captured every emotional nuance and then some. She was certainly deserving of an Emmy nomination, even with so much great competition out there in the TV landscape. It makes sense that her fans would be a little disheartened by the snub.
Moore has never been nominated for an Emmy, though she did receive a Golden Globe nom in 2016 for her role in This Is Us. The show itself is no stranger to awards attention, earning several since its debut. Her co-star Sterling K. Brown won a Golden Globe for Best Actor and Chrissy Metz was nominated alongside Moore, though she didn't take home the gold either. This Is Us has also received a few Best Drama nods at both the Globes and the Emmys, but hasn't won just yet.
That doesn't mean it hasn't taken home any Emmy awards, though. Brown was a winner once again for Outstanding Lead Actor in a Drama Series, as was Gerald McRaney for Outstanding Guest Actor (he plays Dr. K). And just this year both Brown and Milo Ventimiglia were nominated for Best Actor yet again. It does seem odd that Moore's TV husband would snag a nom and she wouldn't, especially since their interplay is integral to the series.
There's no denying the Best Actress category is packed with impressive contenders, and there is a limited amount of space available. This year, Claire Foy was nominated for The Crown, Tatiana Maslany for Orphan Black, Elisabeth Moss for The Handmaid's Tale, Sandra Oh for Killing Eve, Keri Russell for The Americans, and Evan Rachel Wood for Westworld. They're all actresses who have done incredible work onscreen that warrants serious accolades. That doesn't make Moore any less deserving, but it does make it easier to understand how there might not have been room for every actress.
Vanity Fair and Entertainment Tonight both predicted that Moore would receive a Best Actress nom, which makes it even more of a surprise that she didn't. With all the fan support and expectation, the lack of a nomination does feel like a snub, even if it was one that resulted from there being too much talent in the pool.
But the good news is that there's still plenty of time for Moore to be recognized for her work. She may not have gotten a nod this year, but This Is Us isn't going anywhere. It was already renewed for a third season and will likely continue on for numerous seasons considering how popular it is. Moore will definitely knock it out of the park in Season 3, too. She'll get another chance in the future, so fans shouldn't be too disappointed. The wait will be worth it.