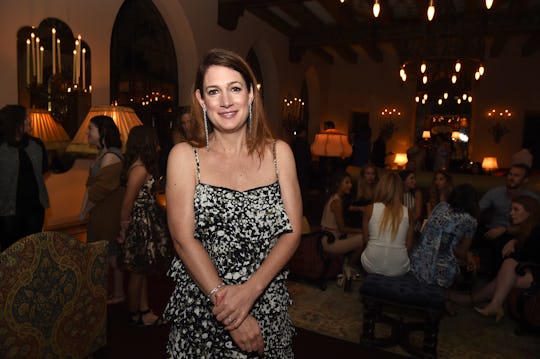 Kevin Winter/Getty Images Entertainment/Getty Images
Gillian Flynn's Books Are All About Complicated Women
When the film adaptation of Gone Girl premiered in 2014, its characters were instantly iconic; terrifying antihero Amy Elliott Dunne immediately impressed herself upon the viewers, becoming a shorthand reference and a meme all at once. And Gillian Flynn, the author who created Amy, has a history of producing similarly complicated, messy, unlikable female protagonists. But if you're not quite as familiar with her other work, you might be wondering: what books has Gillian Flynn written?
Flynn's first novel was Sharp Objects in 2006, and is set to become a television series on HBO starring Amy Adams and Patricia Clarkson. It premieres just around the corner on July 8, bringing to life another of Flynn's unsettling female leads. Crime reporter Camille Preaker might not be as cunning as Amazing Amy, but she's filled with similar anger.
Later, Flynn published Dark Places in 2009, and it was adapted to the screen in 2015, starring Charlize Theron. Gone Girl followed in 2012 — her most recent and bestselling novel. She wrote the short story "The Grownup" in 2015 and the comic series Masks, as well as the screenplay for Gone Girl. She also wrote for the TV adaptation of Sharp Objects and the upcoming Amazon series Utopia. Flynn has certainly been keeping busy.
There is a certain commonality in all of her works. Each novel is from the point of view of a woman ensconced in some seriously dark situations. In Sharp Objects, Camille returns to her hometown of Wind Gap, Missouri to report on the shocking murders of two little girls, but finds her old issues are dredged up by the presence of her damaging relatives. In Dark Places, Libby reinvestigates the murder of her entire family, crimes which were pinned on her older brother but may not have been committed by him. Gone Girl was notable for its twisty plot, in which Amy frames her philandering husband Nick for her own disappearance to punish him for his failings.
Though Flynn has found incredible success as a novelist, it wasn't easy for her when she was first trying to find a publisher for Sharp Objects. She told The Hollywood Reporter that many people found the protagonist to be a hard sell, specifically because Camille wasn't a particularly pleasant or relatable woman. "No one wanted to buy the book. I was writing it in 2004, 2005, and it was really in response to the fact that I didn't see that kind of character out there," Flynn said, adding, "You saw portrayals of bad-boy men and men who were making bad choices. They were everywhere. And I thought, 'Where are the women who are like this?'"
She went on to explain what the literary scene was like at the time, and how much her work was a response to it. Flynn told THR:
It was at a time where "chick lit" was very popular, and that drove me insane. It was all about these women shopping in their heels, and the end was about getting the boy. I wanted more than that, so I wrote it. You always hope to get that bidding war and instead it was crickets. We'd hear a lot of, "We like her writing, show us her next book." And, "We just don't think this book's gonna sell."
In the same interview, Flynn mentioned that her next book was "way overdue." She had more to offer to Chicago Mag in February 2018, though she didn't share much in the way of titles, characters, or plot details. Instead, Flynn promised that she was halfway through the first draft of her next novel, which would be typically "sinister and dark," though there would be humor too. Her husband had been treated to the first page, which Flynn declared was "the greatest first page that's ever been written."
Flynn's books are so impossible to put down that the next one is sure to have fans scrambling to pre-order. Until then, she has three other books that you can catch up on.