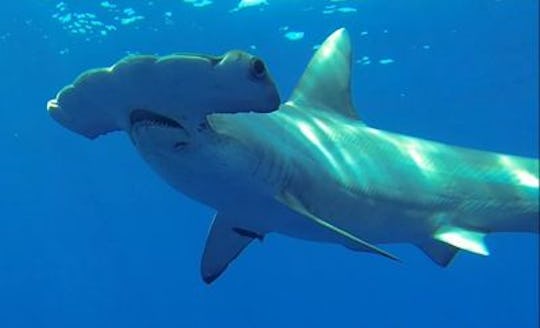 Discovery Channel
Shark Week Is Almost Here, So Get Ready For Real-Life 'Jaws'
There's nothing like enjoying the great indoors and sanctuary of cool air conditioning when it's sweltering outside and that summer heat has given you another reason to complain about the weather. But with the summer also comes the always anticipated Shark Week, and if you're inside anyway, you're going to need to know what channel Shark Week is on and how to catch every minute of the terrifying ocean beasts. This is the 30th Shark Week ever and it all kicks off on Discovery Channel on July 22 for eight days of nothing but shark specials on TV.
Shark Week tends to educate viewers on sharks and the beauty and terror that they embody, so you'd better believe that Shark Week 2018 will also give us more to be in awe of (and fear) when it comes to all things shark related. There's also going to be a special Naked and Afraid episode on July 29 on the last day of Shark Week. This episode will feature a group of five nude contestants who must survive on what the ocean can provide which, yes, includes swimming with sharks while completely naked and probably pretty afraid.
For those who don't have access to the Discovery Channel, there is the off chance that some clips from the special episodes of shows during Shark Week will appear on YouTube in some capacity. Or, if you have Hulu, you'll be able to watch some of Shark Week's content if you also subscribe to the the live TV portion of the streaming platform. So when it comes down to it, you're going to need to be able to tune in to the Discovery Channel specifically.
According to Entertainment Weekly, fans of the long-running week of shark specials can also expect some star studded shows featuring Ronda Rousey, Aaron Rodgers, and Bear Grylls to bring the best of both worlds — beloved celebrities and scary sharks. In Bear vs. Shark, Grylls will return to TV with his survival skills in tow to try and survive while going up against sharks in the middle of the ocean rather than in a desolate jungle or frozen tundra. Rousey is also set to swim with sharks, literally, when she dives into the ocean with no protection alongside a Mako shark. For those who don't know, the Mako is allegedly one of the more dangerous sharks for humans overall. (I feel like literally all sharks are dangerous to humans on account of those teeth and sometimes vicious tendencies, but I'm not a marine biologist). But Rousey isn't going to be messing around when she free dives with an actual Mako during Shark Week and proves once again how badass she is.
Another notable special to look for on Discovery Channel during Shark Week is going to be Shark Tank Meets Shark Week. For a special crossover episode, Shark Tank moguls Barbara Corcoran, Mark Cuban, Daymond John, and Kevin O'Leary will all don wetsuits and get in the ocean to swim with and learn about different sharks. They'll then return to the studio to vote on which ocean-related organization is deserving of a $50,000 reward to go towards more research. It's a lot less cutthroat than Shark Tank itself, but also nerve-wracking in a different way.
To catch that and everything else related to sharks and the wonder and fear they elicit, you're going to need to tune into the Discovery Channel beginning on July 22 and stay glued to the TV for eight days to catch it all. You don't want to miss out on some of the memorable specials that come along with Shark Week.