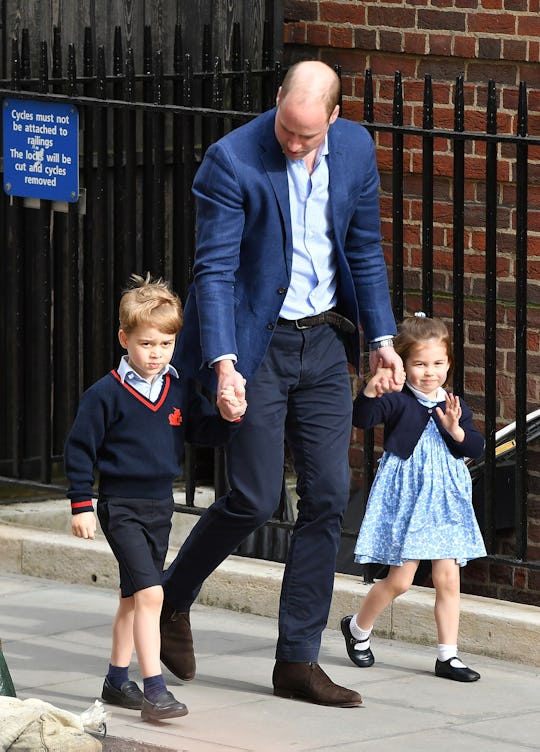 Gareth Cattermole/Getty Images Entertainment/Getty Images
Here's What Prince George & Princess Charlotte's School Days Look Like
We all know the three Rs are involved, and there are bound to be lots of crayons and construction paper thrown into the mix. But with two of three of Prince William and Duchess Kate's children now getting their daily education outside the palace gates, you might have found yourself wondering about what exactly the royal kids learn in school each day and if it's different from what your own kids are learning.
While it's pretty much impossible to get to peer inside the gates of Prince George's "big kid" elementary school, Thomas's Battersea in London, or get to sip juice and sit on the rug during circle time with Princess Charlotte as she adjusts to life at London's Willcocks Nursery School, there are definitely clues to be had about the royal education and what it entails.
When little Charlotte started preschool last year, according to USA Today, she didn't seem nervous at all. Stepping outside Kensington Palace in a red coat, grey tights, and matching red Mary Janes, the little princess sported a cute backpack and a confident grin. Her new school, described as a "kind and gentle" establishment with a "traditional" but rounded curriculum, according to Australia's Now To Love magazine, allows Princess Charlotte to participate in free play, music, cooking, acting and pre-reading.
Princess Charlotte's school takes field trips to such local attractions as the Natural History Museum, according to The Independent. French lessons are also available and the tuition reportedly costs over $14,000 a year, according to Business Insider.
What's more, according to Now to Love, Princess Charlotte reportedly attends a full-day session of school, from 9 a.m. to 4 p.m., and brings a sack lunch from home (it's hard to picture PB&J, even the organic kind, coming out of the palace kitchen, but anything's possible, right?). The best part of all? The school is around the corner from home in a church near the palace, according to Harper's Bazaar.
What about her big brother, Prince George? After all, he didn't go to the same preschool as Princess Charlotte, according to People, having spent most of his early life in rural Norfolk, where his parents have their Anmer Hall residence. Well, life is always changing: As Prince William and Kate Middleton stepped up their royal duties and moved to the city (not to mention adding Prince George and Princess Charlotte's baby brother, Prince Louis) the family's needs have differed, according to Hello! Magazine. And, apparently, the kids' schooling with it.
Now that Prince George has been ensconced at his London private elementary school, things appear to be going smoothly. Thomas's Battersea is a co-ed program emphasizing sports, art and the importance of outdoor activities, according to The Telegraph. Interestingly, the school apparently tries to limit "best" friendships, as reported by The Telegraph, to discourage hurt feelings among other children (not a bad idea when you realize how cliquey preschoolers can sometimes be).
With the schools they have so far chosen, the Cambridges have shown that they are willing to break royal tradition for the good of their very modern version of a royal family. Prince William himself, along with Prince Harry, attended the Wetherby Preschool before moving onto boarding school at the prestigious Ludgrove Prep in Berkshire, according to MSN. High school for both now-grown princes was at the exclusive Eton boarding school. There, according to the school's site, Prince William studied biology, history and geography, also according to MSN, and played on the water polo team (sounds normal, right)? Meanwhile, when it was Prince Harry's turn at Eton, the younger Windsor caused a bit more trouble and had a reputation as a jokester, according to Quora.com
After Eton, Prince William went on to study at St. Andrews University in Scotland, where he became the first future monarch to have a modern college degree, according to The Telegraph. (St. Andrews University is also where Prince William met a certain fetching brunette, according to ABC News.)
Although both of Princess Diana's boys had mixed grades during their own time in school, according to MSN, they were spared from attending the Scottish boarding school, Gordonstoun, that many Windors had, including Prince Charles and his father before him. Prince Charles was reportedly bullied as a new student at boarding school and allegedly had to endure open dorm windows during freezing winters so students would toughen up, according to The Telegraph.(A young Prince Charles' difficult experience at the Scottish school is depicted in the Netflix show The Crown, if you're interested.)
Just as Princess Diana and Princess Charles clearly wanted a less authoritarian approach to their kids' education, Prince William and Duchess Kate are proving that they understand times have changed, and educational theories along with them. Today's schools mix academics with an emphasis on a child's social-emotional growth. Clearly, from the institutions they have chosen, the royal family seems to agree that the monarchy can't be manners only. Kids, even titled ones in line to the throne, need plenty of friends and fun, too.
So sure, Princess George and Prince Charlotte (and soon, little Prince Louis) have some unusual duties for kids their age: They take tea with the Queen every Thursday and according to centuries of tradition, they must stop eating when Queen Elizabeth does, according to BabyGaga. But between the field trips, circle time and learning to socialize nicely, at least when it comes to their education, it's surprising that royal kids don't seem to be learning much that ours, across the pond, aren't. Good to know next time you hit the preschool, right?